| | |
| --- | --- |
| Convective Outlook: Wed 14 Jun 2017 | |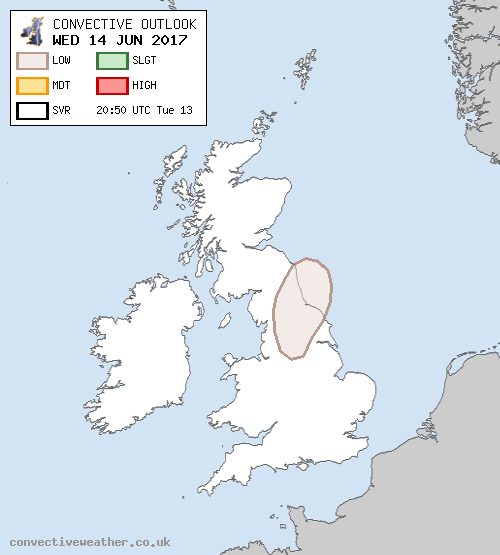 Convective Outlook
VALID 06:00 UTC Wed 14 Jun 2017 - 05:59 UTC Thu 15 Jun 2017
ISSUED 20:50 UTC Tue 13 Jun 2017
br> br>
ISSUED BY: Dan
... N ENGLAND ...
Several high-res models suggest potential for some very marginal instability to develop Wednesday afternoon and evening as a developing area of higher WBPT begins to form combined with low-level (sea breeze) convergence. Scope for a few isolated to well-scattered showers to develop, largely too shallow for any lightning - but there may be a small window of opportunity late afternoon/early evening for an isolated strike. In general, potential is only 5-10% in any given location so barely worth a LOW threat level issuance.
Overnight, falling heights ahead of an Atlantic trough may allow a little more destabilisation, this time from the mid-levels - mostly over the North Sea, but perhaps also affecting a similar area over N England. Again, potential is fairly low, but there may be a few showers that form from elevated convection into the early hours of Thursday.
... SE ENGLAND / EAST ANGLIA ...
Barely worth a mention, but advection of high WBPT plume from France late Wednesday night into Thursday morning is unlikely to undergo sufficient destabilisation to be of interest due to upper ridging. That said, subtle falling of heights by Thursday morning may allow some destabilisation to occur, though this more likely by the time the plume has exited to the North Sea (and also beyond this forecast period). Hence a very low chance of some offshore lightning by Thursday morning.
Perhaps also some early elevated convection near / south of the Channel Islands on Wednesday morning.