| | |
| --- | --- |
| Convective Outlook: Thu 15 Jun 2017 | |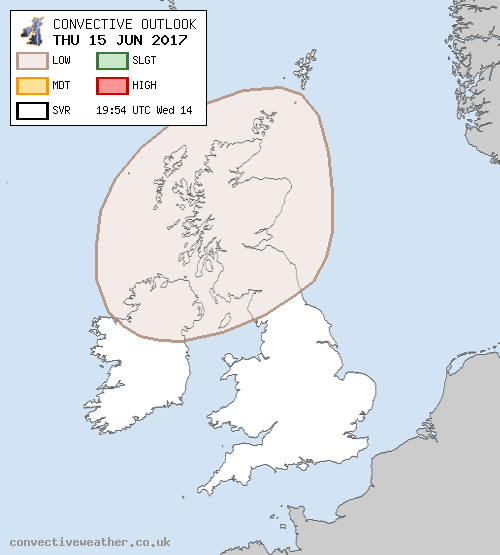 Convective Outlook
VALID 06:00 UTC Thu 15 Jun 2017 - 05:59 UTC Fri 16 Jun 2017
ISSUED 19:54 UTC Wed 14 Jun 2017
br> br>
ISSUED BY: Dan
... E ANGLIA / SE ENGLAND ...
Narrow plume of high WBPT and reasonable MLCAPE will be present across E Anglia and SE England first thing on Thursday morning - however, with no real upper forcing to destabilise (due to upper ridging) it is very unlikely any noteworthy deep convection will occur, before the plume moves offshore across the North Sea. That said, some AcCas with perhaps virga will be possible, with better chances of some destabilisation occurring as this plume drifts across the North Sea as heights begin to fall aloft.
The approaching cold front during the afternoon hours may provide the focus for a few scattered showers, but limited in depth due to very dry air overrunning aloft. Therefore, no threat levels have been issued for now.
... SCOTLAND / NORTHERN IRELAND ...
Behind the cold front, upper trough migrating eastwards will steepen mid-level lapse rates slightly with cool air aloft providing sufficient instability for numerous showers to form, some weakly-electrified.