| | |
| --- | --- |
| Convective Outlook: Tue 20 Jun 2017 | |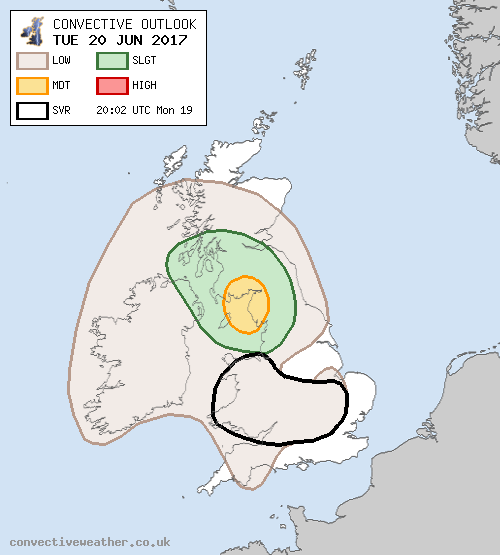 Convective Outlook
VALID 06:00 UTC Tue 20 Jun 2017 - 05:59 UTC Wed 21 Jun 2017
ISSUED 20:02 UTC Mon 19 Jun 2017
br> br>
ISSUED BY: Dan
... WALES / MIDLANDS / W COUNTRY / HOME COUNTIES ...
Day-on-day weakening of the ~650mb nose continues as heights aloft gradually fall, which combined with low-level convergence and strong surface heating (generating 1,000 - 2,000 Jkg-1 CAPE) will bring the risk of a few isolated heavy showers / thunderstorms very late Tuesday afternoon into the evening hours. Forecast profiles are once again quite dry, which will serve to inhibit deep convection, but should a strong cell develop then, given such instability and dry air aloft, there is scope for large hail 2.0-2.5cm in diameter and localised flash flooding as a result of slow storm motion and local accumulations of 30-40mm in a short space of time. As a result, a SVR has been issued for this, but it is easily possible that no thunderstorms develop and consequently no severe weather will occur etc.
... REPUBLIC OF IRELAND / NORTHERN IRELAND / IRISH SEA / SCOTLAND / N ENGLAND ...
On Tuesday night, an approaching Atlantic trough will advect the high WBPT airmass over southern England northwards across the Irish Sea to Northern Ireland. Increased forcing as upper trough approaches will likely destabilise the mid-levels, especially during the latter stages of the night. An increase in elevated thunderstorm potential seems likely during the early hours of Wednesday, particularly over the Irish Sea, moving into Cumbria and parts of SW Scotland. The risk also extends farther south towards west Wales and perhaps SW England by Wednesday morning, but with less forcing likely here and so greater uncertainty as to whether such (large) instability will be released. The exact areas at risk is still somewhat uncertain, and hence the forecast may need adjusting nearer the time as confidence improves - the SLGT, for example, may need extending across Northern Ireland.