| | |
| --- | --- |
| Convective Outlook: Sun 11 Mar 2018 | |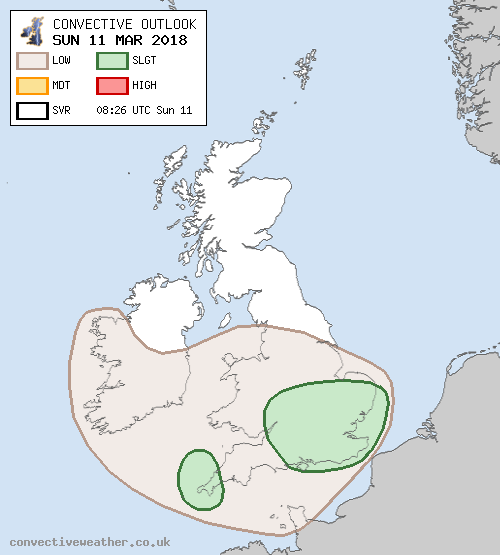 Convective Outlook
VALID 06:00 UTC Sun 11 Mar 2018 - 05:59 UTC Mon 12 Mar 2018
ISSUED 08:26 UTC Sun 11 Mar 2018
br> br>
ISSUED BY: Dan
UPDATE 08:26 UTC SLGTs added for current activity approaching Cornwall/Scilly this morning (this may need extending E-wards across Devon and perhaps even S Wales for this afternoon), and a large SLGT primarily focussed over SE England / E Anglia / Home Counties for late afternoon into the evening hours as better forcing arrives from the SW (though marginal instability still suggests low confidence). Depending on developments, this SLGT may also need extending into Wales.
Upper trough will slowly approach the British Isles from the southwest on Sunday. On the forward side, relatively warm, moist low-level airmass will reside across southern Britain, with several post-frontal troughs / occlusions spreading showery bursts of rain northwards. A frontal wave will also pass close to or over SE England and East Anglia during the morning hours.
Elements of elevated convection are possible with any of this activity, given some marginal instability - though with saturated profiles, it is questionable as to how much lightning activity may occur.
Two main timeframes exist for some lightning activity - during the morning hours across SW England / W Country from mid-level activity (though far from certain given a lack of support in some models). There is also a narrow window where some surface-based convection may occur during the mid/late afternoon and early evening, where some high resolution NWP suggest a few heavy showers may develop associated with some low-level wind convergence in a zone from E Wales / W Country / M4 corridor to SE England, this line then shifting northwards with time across the Midlands and East Anglia - however, this is very much dependent on sufficient breaks in the cloud and given fairly saturated profiles and marginal instability we have refrained from issuing a SLGT for now.