| | |
| --- | --- |
| Convective Outlook: Wed 04 Apr 2018 | |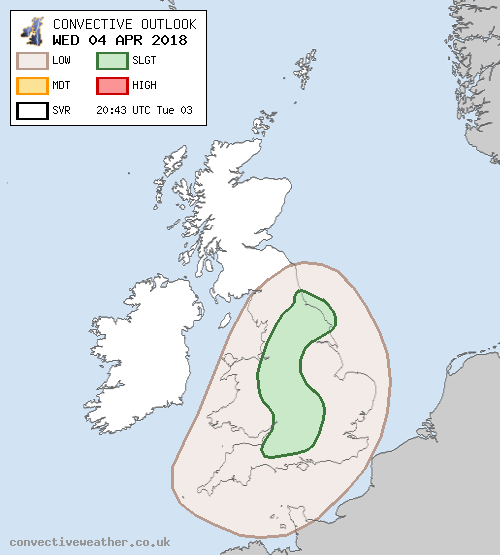 Convective Outlook
VALID 06:00 UTC Wed 04 Apr 2018 - 05:59 UTC Thu 05 Apr 2018
ISSUED 20:43 UTC Tue 03 Apr 2018
br> br>
ISSUED BY: Dan
Broad upper trough will clear eastwards across the British Isles on Wednesday, with a weakening upper-low lifting northeastwards during the morning and first half of the afternoon. Cold pool aloft will result in reasonably steep mid-level lapse rates over much of England and Wales, with diurnal heating helping to generate 300-600 J/kg CAPE. A surface low will drift northeast from Cornwall at 06z to The Humber by 18z - it is primarily on the northern and western flank where the best conditions for deep convection are expected. On the forward-side, most model guidance indicates more in the way of dynamic precipitation at times, and hence questionable as to how much lightning will occur here.
Provided there is sufficient insolation to lift surface temperatures to 10-12C with dewpoints of 8-9C, increasing low-level wind convergence will aid the developing scattered heavy showers and a few thunderstorms from early afternoon over northern England, the Welsh border and West Country, these then drifting eastwards through the afternoon hours - though very slow-moving in Yorkshire where the greatest concerns for some localised surface water flooding exist.
Hail up to 1.0cm in diameter is possible with the strongest cores, while a few funnel clouds or perhaps even a weak tornado will also be possible - moreso over The Pennines into Yorkshire where low-level convergence becomes maximised during the afternoon. Biggest limiting factor is likely to be excessive cloud cover which could serve to lower surface temperatures and inhibit deep convection. Both shear and mid-level lapse rates are weaker than on Tuesday, and so rather messy pulse-type convection is more likely. In any case, cooling of the boundary layer and ridging aloft will tend to cause a decay of showers during the late afternoon / evening hours.