| | |
| --- | --- |
| Convective Outlook: Fri 06 Apr 2018 | |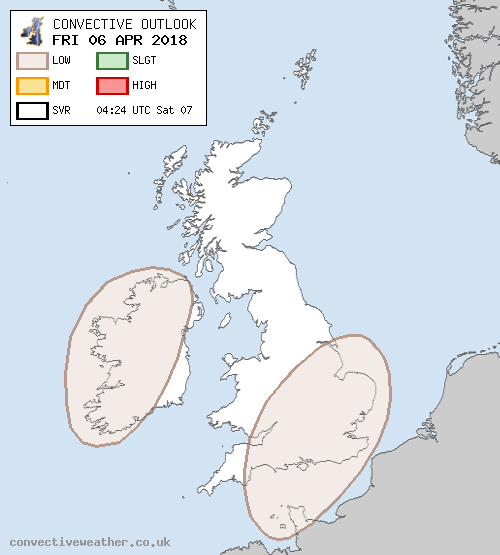 Convective Outlook
VALID 06:00 UTC Fri 06 Apr 2018 - 05:59 UTC Sat 07 Apr 2018
ISSUED 04:24 UTC Sat 07 Apr 2018
br> br>
ISSUED BY: Dan
UPDATE 04:24 UTC Recent observational and model trends continue to decrease (an already limited) lightning potential, and so SLGT has been removed given that any lightning is unlikely to be widespread enough in coverage to warrant a SLGT
UPDATE 19:39 UTC Latest data over the past 24 hours has continued a westward shift in the frontal wave later tonight and into Saturday morning, and hence a subsequent expansion of the SLGT has been issued - though still with low confidence with regards to how much lightning may actually occur

A sharp and gradually disrupting upper trough to the west of the British Isles on Friday will gradually drift over Portugal by Saturday morning. At the surface, a complex low will sit over the Atlantic, with one centre drifting north close to western Ireland during the day. A weakening cold front will drift eastwards across the Irish Sea into western Britain, while ahead a southerly flow will introduce a warmer airmass across England.
... IRELAND ...
As the cold front clears to the northeast, some marginal instability will develop in response to diurnal heating and slight cooling aloft. A few scattered showers are expected, perhaps weakly-electrified - despite marginal instability, strong DLS may be enough to compensate to produce some sporadic lightning activity. In fact, given backed low-level winds, notable SREH and LLS and relatively low cloud bases, it is possible the strongest cells could exhibit some supercell-characteristics. A tornado is not completely ruled out in these low CAPE / high shear scenarios.
While nocturnal cooling usually results in a decay of convection, the approach of a shortwave from the southwest may allow deep convection to persist into the night hours, especially in the west.
... S + E ENGLAND ...
Main interest here is during Friday night, as backing of the mean flow increases warm air advection, with some mid-level instability being generated. Deep convection aside, increasing baroclinicity and the development of a surface low will allow a wave on the cold front to bring a pulse of heavy, more widespread rain northwards across southern Britain. The best potential for any lightning activity will be on the eastern flank - and hence getting the exact track and shape of the frontal wave will be crucial in determine which areas are at greatest risk, and as such the forecast may need to be modified slightly nearer the time.
Most NWP guidance suggests 100-300 J/kg MLCAPE, so somewhat marginal instability, but this will be in a strongly-sheared environment on the forward side of the upper trough. Some lightning activity is possible, but not certain - and since a Marginal (MRGL) threat level does not exist in our forecast system, have reluctantly issued a low-end SLGT to try and highlight the area where the best overlap of conditions currently looks to take place during the early hours of Saturday.