| | |
| --- | --- |
| Convective Outlook: Sat 07 Apr 2018 | |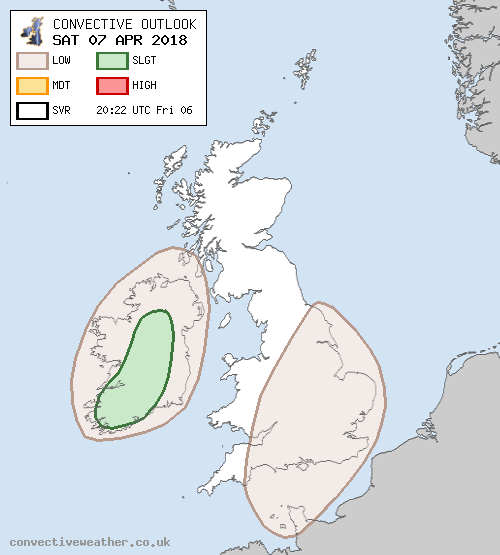 Convective Outlook
VALID 06:00 UTC Sat 07 Apr 2018 - 05:59 UTC Sun 08 Apr 2018
ISSUED 20:22 UTC Fri 06 Apr 2018
br> br>
ISSUED BY: Dan
... ENGLAND / WALES ...
On the forward side of a sharp upper trough, which will continue to dig across Iberia, a frontal wave will drift northwards across England and Wales - bringing an area of rain across Wales and W England eventually into S Scotland. On the eastern flank, and points east, elements of medium-level instability will exist which may be sporadically destabilised in association with the passage of a shortwave, moving northeast through the morning/early afternoon. Some high-based showers will be possible, capable of producing lightning - though given rather marginal instability, confidence on lightning coverage is too low to upgrade to SLGT.
... REPUBLIC OF IRELAND / NORTHERN IRELAND ...
Under the upper trough, cold air aloft will produce some reasonably steep mid-level lapse rates. Diurnal heating will allow 400-800 J/kg CAPE to build, with topography and low-level convergence aiding the development of numerous heavy showers and a few thunderstorms for the afternoon and early evening hours.
Limiting factors will be a lack of shear, resulting in messy pulse-type convection in the main, and perhaps also a hang back of cloud associated with the frontal wave over England/Wales, which may serve to dilute insolation somewhat. Nonetheless, the strongest cells could produce hail up to 1.5cm in diameter, while low-level convergence could produce a couple of funnel clouds.