| | |
| --- | --- |
| Convective Outlook: Tue 10 Apr 2018 | |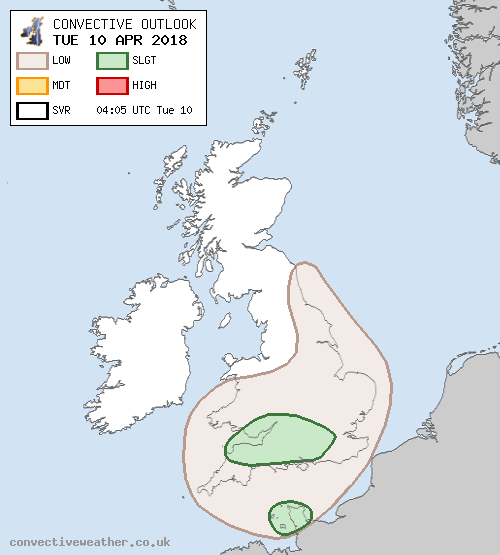 Convective Outlook
VALID 06:00 UTC Tue 10 Apr 2018 - 05:59 UTC Wed 11 Apr 2018
ISSUED 04:05 UTC Tue 10 Apr 2018
br> br>
ISSUED BY: Dan
... S ENGLAND / S MIDLANDS / S WALES ...
An upper low over the Bay of Biscay will drift slowly southwards to Iberia during Tuesday, with a shortwave rotating around the northern edge across northern France / English Channel / southern England. At the surface, a moist airmass with dewpoints of 10-11C will reside over southern Britain, which provided there is sufficient insolation will help yield 300-600 J/kg CAPE in response to diurnal heating (Tmax 16-17C).
A combination of increased upper forcing and low-level convergence could allow a few scattered heavy showers or thunderstorms to form, particularly during the mid/late afternoon into the evening hours. Forecast profiles exhibit some reasonable directional shear with height, which may allow such cells to become organised for a time, capable of producing hail up to 1.5cm in diameter. Biggest uncertainty will be cloud cover (and perhaps a subtle warm nose aloft ~600mb) which may inhibit deep convection somewhat. Any showers/storms that do develop will drift to the W or WNW, slowly weakening during the evening hours.
... CHANNEL ISLANDS ...
Scattered thunderstorms will likely develop over the Cherbourg peninsula during the afternoon, drifting offshore to the NW. While most will stay just NE of the Channel Islands, have introduced a SLGT to cover the risk of lightning nearby.
... KENT / EAST ANGLIA / LINCOLNSHIRE ...
Increasing instability over the nearby Continent will likely lead to scattered thunderstorms developing over Belgium, the Netherlands and western Germany on Tuesday afternoon/evening. These will drift westwards with time while decaying as they cross the North Sea on Tuesday night, but the remnants could reach as far as Kent, East Anglia or Lincolnshire during late Tuesday evening, but more especially early hours of Wednesday.