| | |
| --- | --- |
| Convective Outlook: Wed 11 Apr 2018 | |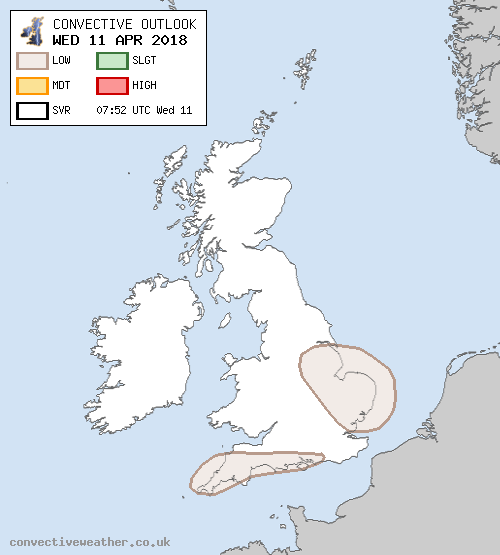 Convective Outlook
VALID 06:00 UTC Wed 11 Apr 2018 - 05:59 UTC Thu 12 Apr 2018
ISSUED 07:52 UTC Wed 11 Apr 2018
br> br>
ISSUED BY: Dan
... NE ENGLAND ...
Mid-level instability, with some impressive mid-level lapse rates, will move westwards across NE England this morning into S Scotland - but with a lack of any noteworthy forcing, deep convection seems unlikely and so no threat levels have been issued for now.
... S / SW ENGLAND ...
Sufficient insolation will help build a few hundred J/kg CAPE this afternoon, which combined with sea breeze convergence may allow a few heavy showers to develop along a W-E line, perhaps lingering into the early evening. Marginal mid-level lapse rates, and quite dry/warm upper levels may tend to limit the true depth of convection, and so while some heavy showers are possible, lightning may be rather isolated.
... EAST ANGLIA ...
Once again, thunderstorms are expected to develop this afternoon across western Germany into the Netherlands, which will drift westwards across the North Sea. Weakening is expected, and so very little lightning activity may actually occur over land in England, but given some mid-level instability is still likely have included a LOW threat level for a few isolated lightning strikes as various pulses of showery rain move across/develop over East Anglia this evening and tonight. Overall conditions look a little less-conducive than during last night.