| | |
| --- | --- |
| Convective Outlook: Thu 12 Apr 2018 | |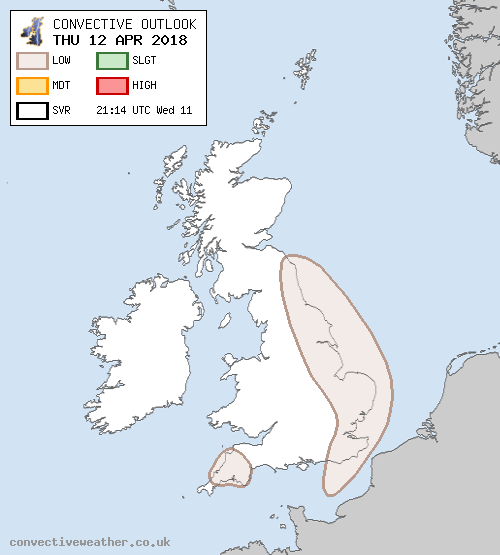 Convective Outlook
VALID 06:00 UTC Thu 12 Apr 2018 - 05:59 UTC Fri 13 Apr 2018
ISSUED 21:14 UTC Wed 11 Apr 2018
br> br>
ISSUED BY: Dan
... SW ENGLAND ...
Provided there is sufficient isolation, diurnal heating combined with sea breeze convergence may allow a few isolated heavy showers to develop during the afternoon, some perhaps weakly-electrified given marginal instability and reasonable mid-level lapse rates. Biggest threat is the risk of localised surface water flooding from slow-moving heavy downpours.
... NE ENGLAND THURS AFTERNOON ...
A subtle shortwave will drift northwest-wards across NE England on Thursday afternoon, perhaps providing enough forcing to generate some showery bursts of rain. Marginal instability and mid-level lapse rates could allow some isolated lightning to occur.
... SE ENGLAND / EAST ANGLIA / E + NE ENGLAND ...
On the forward side of an approaching upper trough, located over France, destabilisation will occur on Thursday afternoon/evening as a high WBPT airmass drifts north across central Europe and encounters diurnal heating and increased forcing aloft.
On the edge of the plume, some showers or showery rain are expected to develop over NE France during the afternoon hours, drifting into SE England towards the evening. Some lightning activity is possible over NE France, though probably with a weakening trend as this drifts to the northwest across the English Channel. Have retained a LOW threat level for SE England for this potential activity during the evening, though with low confidence as to whether any lightning activity will occur here.
There is some uncertainty over the shape and orientation of the upper pattern on Thursday night, and this will dictate how far west elements of mid-level instability will reach. It is likely some fairly active thunderstorms will develop on Thursday night over Germany, which will then drift NW-wards across the mid North Sea - though some model solutions bring the (decaying) remnants of these towards NE England by late Thursday night. Most, however, would suggest lightning activity will remain well offshore, and eventually merge into an area of rain that moves into eastern Scotland on Friday morning (beyond this forecast period). For now, a LOW threat level has been issued over eastern England for the chance of some isolated lightning associated with developing areas of showery rain on Thursday evening / night.