| | |
| --- | --- |
| Convective Outlook: Fri 13 Apr 2018 | |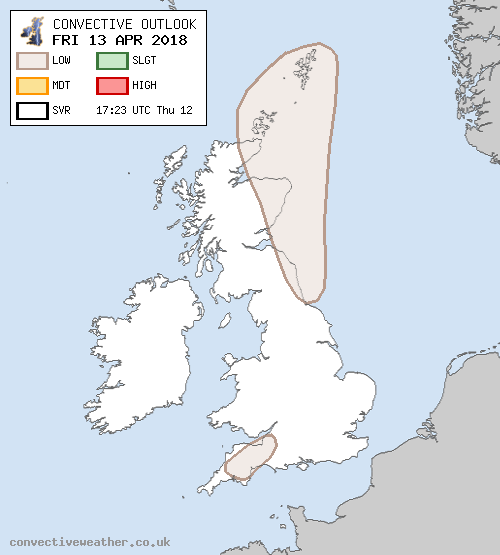 Convective Outlook
VALID 06:00 UTC Fri 13 Apr 2018 - 05:59 UTC Sat 14 Apr 2018
ISSUED 17:23 UTC Thu 12 Apr 2018
br> br>
ISSUED BY: Dan
... NE ENGLAND / E + NE SCOTLAND / NORTHERN ISLES ...
Elements of showery rain, perhaps with some weakening elevated thunderstorms, will be ongoing Friday morning over the North Sea, and occasionally drifting inland. While lightning activity will likely be isolated, some mid-level instability will still exist for a time, and so a LOW threat level has been issued to cover this (relatively low) risk. Northern Isles appear at greatest risk for some isolated lightning associated with the plume axis over the North Sea.
... SW ENGLAND ...
Provided sufficient cloud breaks can allow some reasonable insolation, marginal instability and orographic / sea breeze forcing may allow a couple of isolated but locally heavy showers to develop on Friday afternoon. Some isolated lightning will be possible, with the main threat localised surface water issues given slow storm motion.