| | |
| --- | --- |
| Convective Outlook: Fri 20 Apr 2018 | |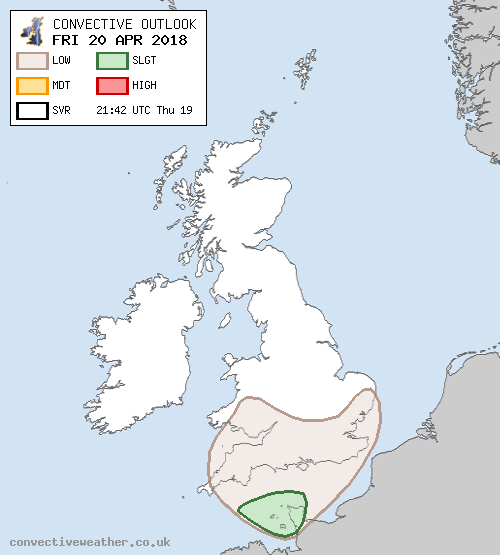 Convective Outlook
VALID 06:00 UTC Fri 20 Apr 2018 - 05:59 UTC Sat 21 Apr 2018
ISSUED 21:42 UTC Thu 19 Apr 2018
br> br>
ISSUED BY: Dan
Increased boundary layer moisture, with surface dewpoints of 14-16C likely, combined with breeze convergence / urban heat island may allow an isolated heavy shower or two to develop late Friday afternoon and into the evening - with particular focus on London, Essex and Kent. However, forecast profiles are very dry, and so any convection that attempts to develop will struggle to gain much height - hence a very low risk of lightning.
On Friday night, the approaching subtle upper trough from Biscay will begin to destabilise a high ThetaW airmass advecting from France across the English Channel into S / SW England. There is some uncertainty at this range as to the degree of overlap between upper forcing and plume coming out of France, and this will affect how quickly elevated thunderstorms can develop.
For now, have issued a SLGT for the Channel Islands and adjacent English Channel for early hours of Saturday given lightning will likely be fairly frequent with any thunderstorms that do develop, but this may need extending northwards into Devon east to the IoW, depending on how quickly destabilisation occurs in this forecast period (up to 06z Saturday).