| | |
| --- | --- |
| Convective Outlook: Tue 08 May 2018 | |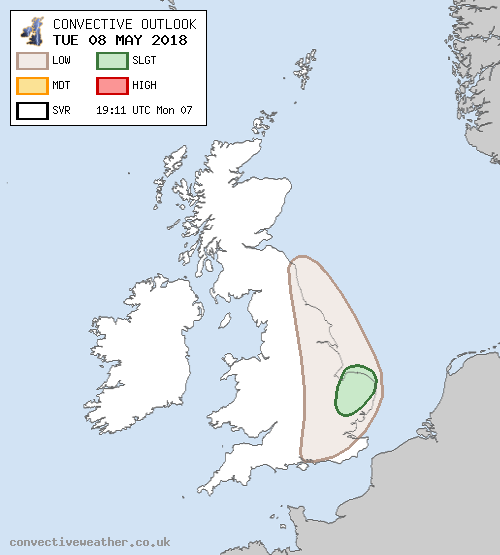 Convective Outlook
VALID 06:00 UTC Tue 08 May 2018 - 05:59 UTC Wed 09 May 2018
ISSUED 19:11 UTC Mon 07 May 2018
br> br>
ISSUED BY: Dan
An upper trough will slide eastwards across central/northern Britain on Tuesday with a surface cold front drifting slowly eastwards. Ahead of this front, a corridor of high dewpoint air (14-17C) will exist, providing the focus for some convective potential given strong heating (air temperatures likely to reach 24-27C over E / SE England during the afternoon hours, with 600-1,00 J/kg CAPE as a result) and increasing low-level wind convergence.
Model guidance varies markedly on convective initiation, with some generating numerous showers while others remain virtually dry. Forecast profiles are very dry, with a nose at about 600mb which may inhibit deep convection. That said, forcing will subtly increase aloft as the upper trough approaches from the west.
Current thinking is an isolated heavy shower / thunderstorm may develop over Durham / North Yorkshire during the first half of the afternoon in combination with low-level convergence and some orographing forcing over the North York Moors - this then moving out to the North Sea. Other showers may develop further south along this N-S boundary during the afternoon, but particular focus is given to East Anglia during the late afternoon / first half of the evening where one or two thunderstorms may develop and clear to the NE.
Deep layer speed shear will be increasing towards the evening as the flow aloft strengthens on the forward side of the approaching upper trough - though directional shear looks a little messy. If a thunderstorm can develop (despite the limiting factors mentioned above), given the magnitude of instability it could produce hail up to 1.5cm in diameter and some localised surface water issues given PWAT 25-30mm. Have reluctantly issued a low-end SLGT to better highlight this potential, despite low confidence at present.