| | |
| --- | --- |
| Convective Outlook: Sat 12 May 2018 | |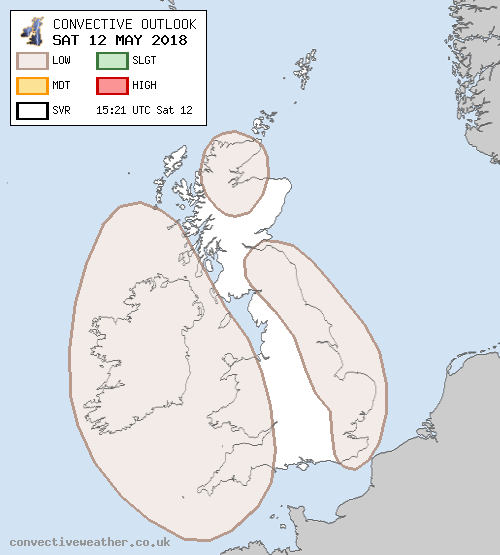 Convective Outlook
VALID 06:00 UTC Sat 12 May 2018 - 05:59 UTC Sun 13 May 2018
ISSUED 15:21 UTC Sat 12 May 2018
br> br>
ISSUED BY: Dan
UPDATE 15:21 UTC SLGT over Ireland removed - modified 12z soundings suggests 500-800 J/kg CAPE, but with convection struggling to maintain sufficient depth due to dry profiles and capping at 500mb. Some lightning is still possible from deeper convection into the early evening, but coverage is unlikely to be significant enough to warrant a SLGT.
UPDATE 08:57 UTC Edits made to extend LOW threat level further north across N England into SE Scotland, and also add an additional LOW to N/NW Scotland - both as a result of high-res models suggesting isol heavy showers possible this afternoon/evening, aided by some orographic forcing. High-res models also continue to suggest some convection may develop over E Midlands / Lincolnshire / Yorkshire this afternoon too, ahead of the main frontal rain arriving from the south

Sharpening upper trough will drift slowly across Ireland, while digging south over Biscay. Within the trough axis, cold air aloft will result in steep mid-level lapse rates, generating 300-600 J/kg CAPE in response to diurnal heating.
Deep convection will be ongoing at the start of the forecast period over the Celtic Sea, associated with a slowly-filling cut-off upper low. This convection will tend to weaken during the morning hours, with the focus then shifting northwards across the Republic of Ireland and eventually Northern Ireland. Under the trough axis, shear will be fairly weak and so pulse-type showers/storms are most expected - hence any lightning will tend to be short-lived and sporadic. Worth noting that subsequent model guidance have tended to make showers increasingly isolated compared to earlier runs, causing some uncertainty over likely coverage. Showers/storms will gradually decay through the evening, though further showers are likely close to Atlantic coasts overnight.
On the forward side of the upper trough, a frontal wave will develop over France, pushing rain northwards into SE England and East Anglia. The exact track / shape of this wave remains uncertain, and hence timing and areas affected. Either way, on the eastern flank some weak instability may be present, with perhaps an isolated lightning strike - hence the inclusion of a LOW threat level.