| | |
| --- | --- |
| Convective Outlook: Thu 31 May 2018 | |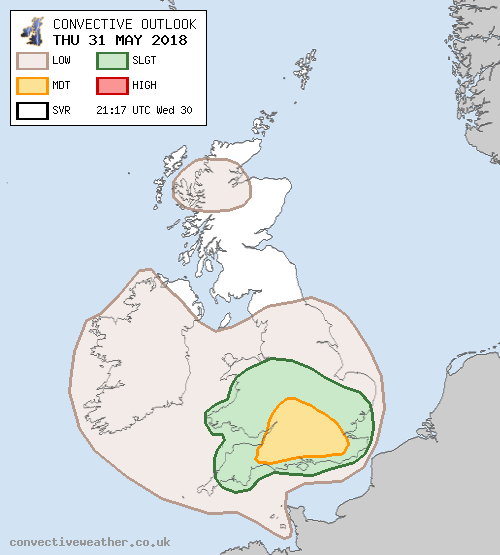 Convective Outlook
VALID 06:00 UTC Thu 31 May 2018 - 05:59 UTC Fri 01 Jun 2018
ISSUED 21:17 UTC Wed 30 May 2018
br> br>
ISSUED BY: Chris
A widespread thunderstorm outbreak is expected across southern Britain on Thursday.
Mid-level instability will spread into southern England during the morning sparking the potential for thunderstorms by mid-morning across parts of Kent, Sussex and areas south of London. As the day progresses thunderstorms will develop more widely across southern England and eventually into Wales, the Midlands and parts of East Anglia.
These storms will experience several different forcing factors. The aforementioned mid-level instability will spread further northwards into the Midlands, but should mix with surface based instability into the afternoon in response to daytime heating. CAPE values >1000 J/kg are forecast quite widely through the MDT and much of the SLGT area with PWATs in the low 30s mm. Both low-level and deep-layer shear will be weak, meaning storm modes will be messy, and largely pulse variety. Development of thunderstorms will likely occur in response to weak surface convergence, that is noted in the surface wind fields in the model, particularly from London across Bucks, Oxfordshire and Glocs.
Weak steering flow will mean that thunderstorms likely sit over the same locations for an extended time, leading to the risk localised flooding. Some areas could receive in excess of 50mm of rain in less than 1 hour. The larger thunderstorm updrafts may also be capable of supporting hail to 2.5cm.
Some uncertainty over MDT risk area as extensive low-level cloud during the morning could limit temperatures into the afternoon, and lead to lower CAPE values than the models are suggesting.
A few isolated thunderstorms are possible in northwestern Scotland as well, with CAPE values over 700 J/kg forecast, however dry-midlevel conditions and capping at around 750mb will limit potential there.