| | |
| --- | --- |
| Convective Outlook: Fri 01 Jun 2018 | |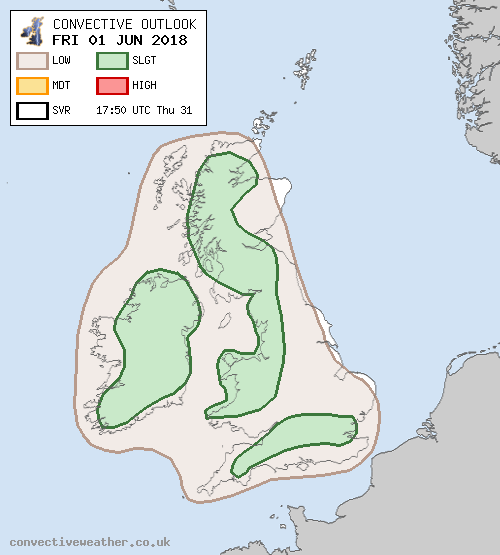 Convective Outlook
VALID 06:00 UTC Fri 01 Jun 2018 - 05:59 UTC Sat 02 Jun 2018
ISSUED 17:50 UTC Thu 31 May 2018
br> br>
ISSUED BY: Chris
Another day of widespread convection across the British Isles...
The focus of shower and thunderstorm development will shift further to the north and west on Friday, with unstable air pushing northwards through Scotland during the day. CAPE values in excess of 700 J/kg, and some pockets up to 1000 J/kg will be possible by the afternoon. Upper air profiles across northern Wales, northwestern England and into Scotland are fairly moist with PWATs of around 30mm. Drier air in the mid-levels will become a problem across southern parts of Britain, and while heavy showers and a few thunderstorms will be possible there, they will likely be isolated, and forced by weak surface convergence. Topography will also aid convective development on Friday.
Like previous days shear will remain weak, and mean that showers/thunderstorms will remain messy and pulse variety. The steering flow will take showers and thunderstorms only slowly northwards once they develop, and in western parts of Britain they may train over the same areas, giving the risk of localised flooding. Like with previous days rain totals in 1-2 hours could exceed 50mm in places giving the potential for localised flooding. Updrafts will not last particularly long so hail size will likely remain below 1cm, although cannot be ruled out.