| | |
| --- | --- |
| Convective Outlook: Sun 03 Jun 2018 | |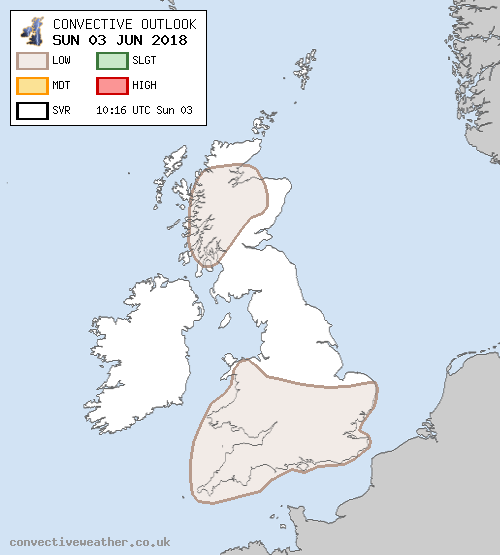 Convective Outlook
VALID 06:00 UTC Sun 03 Jun 2018 - 05:59 UTC Mon 04 Jun 2018
ISSUED 10:16 UTC Sun 03 Jun 2018
br> br>
ISSUED BY: Chris
***UPDATE***
The ISOL risk has been extended to cover much of southern England and Wales for Sunday afternoon. Most Hi-res modules indicating the small risk of a few isolated thunderstorms developing, most particularly across parts of southeastern England (Essex/London/Kent) in response to strong daytime heating (highs in the mid-20s) and CAPE values in excess of 700 J/kg. It must be stressed that most places will stay dry, but around a 10% risk will persist through the afternoon. Dry mid-level conditions and a warm-nose at about 650mb will likely prohibit convection.
A quieter day convection-wise across the British Isles compared to the last week...
A ridge of higher pressure will build from the northwest across most of the British Isles with rising 500mb heights and drier mid-level air, meaning shower activity will be limited in most locations.
Scotland...
Modest surface heating combined with orographic lift / convergence could help a few sharp showers, and perhaps an odd thunderstorm to develop across the Highlands and western parts of Scotland during the afternoon. Lighting is considered a low risk and showers will be diurnally driven.
Southwestern England...
Weak mid-level instability drifting northeastwards across the region could help to generate a few heavy showers, although the lightning potential is considered very minimal.