| | |
| --- | --- |
| Convective Outlook: Mon 04 Jun 2018 | |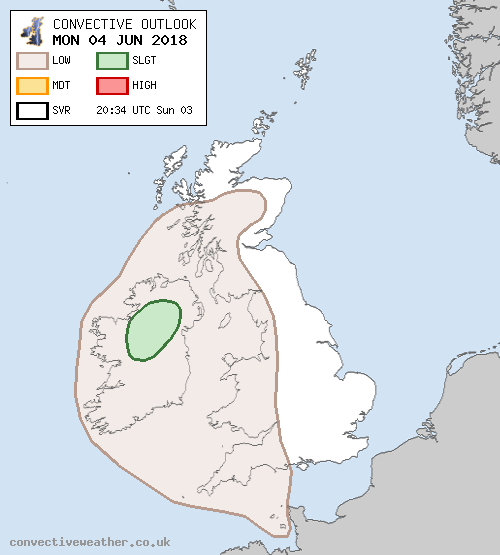 Convective Outlook
VALID 06:00 UTC Mon 04 Jun 2018 - 05:59 UTC Tue 05 Jun 2018
ISSUED 20:34 UTC Sun 03 Jun 2018
br> br>
ISSUED BY: Chris
Isolated heavy showers with the potential for some lightning across parts of western Britain, but more especially into Ireland...
Ireland...
Isolated to scattered airmass thunderstorms are possible by mid-to-late afternoon across central Ireland on Monday. CAPE values in excess of 1,000 J/kg combined with moist profiles (PWAT >32mm) will lead to the potential for slow-moving thunderstorms capable of producing some localised flooding and very locally some hail to around 1cm in diameter. Weak shear will limit updraft life-spans so showers will tend to pulse, and die away quite quickly, especially after daytime heating subsides.
Western Britain (mainly Cornwall, SW Scotland)...
Isolated showers and perhaps an odd thunderstorm are possible in these areas, with the aforementioned Cornwall and SW Scotland being the favoured areas for sharper shower development. Compared with Ireland, mid-level profiles are drier in Britain and instability is weaker (more similar to Sunday). CAPE values of 300-600 J/kg will be more typical and any shower development will likely need to be aided by orographic effects/convergence boundaries. Like in Ireland shear remains weak, so any shower updrafts will likely be short-lived, limiting the potential for lightning.