| | |
| --- | --- |
| Convective Outlook: Thu 07 Jun 2018 | |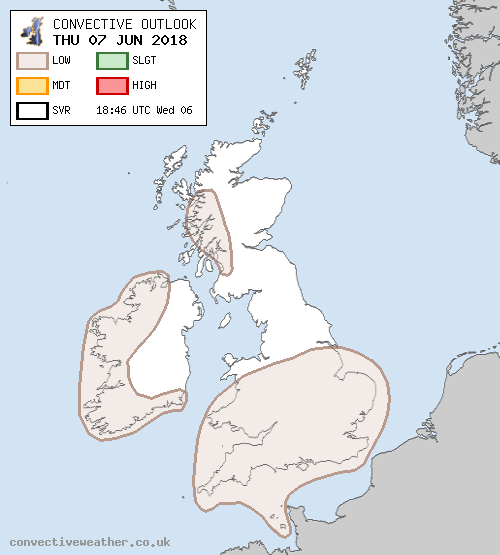 Convective Outlook
VALID 06:00 UTC Thu 07 Jun 2018 - 05:59 UTC Fri 08 Jun 2018
ISSUED 18:46 UTC Wed 06 Jun 2018
br> br>
ISSUED BY: Chris
Isolated thunderstorms are possible across southern Britain, western Scotland and parts of western Ireland...
Southern and central England and most of Wales...
Weak mid-level instability will spread northwards across the Channel and through southern and central England and Wales during Thursday. Isolated to scattered showers and perhaps an odd thunderstorm are possible in this area. Lightning risk is considered low due to only modestly unstable mid-level profiles and lack of shear.
Western Ireland and western Scotland...
Surface based thunderstorms may develop in response to daytime heating and weak surface convergence in these areas. CAPE values of 400-700 J/kg are forecast, however shear values remains low, therefore sustained updrafts are unlikely and lightning is considered a low risk.