| | |
| --- | --- |
| Convective Outlook: Fri 08 Jun 2018 | |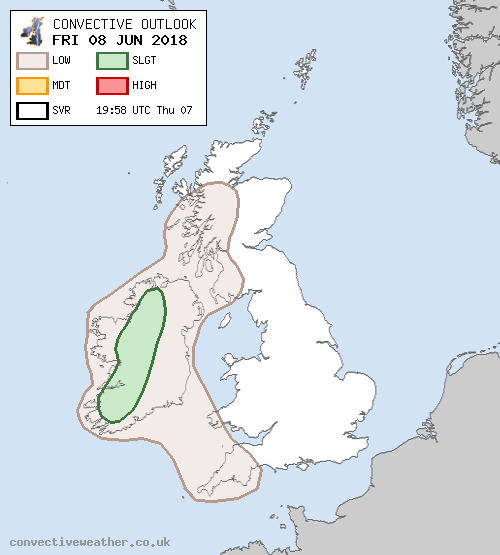 Convective Outlook
VALID 06:00 UTC Fri 08 Jun 2018 - 05:59 UTC Sat 09 Jun 2018
ISSUED 19:58 UTC Thu 07 Jun 2018
br> br>
ISSUED BY: Chris
Thunderstorms will develop across Ireland and western Scotland during Friday afternoon...
Ireland and western Scotland...
CAPE values will approach 1,000 J/kg by mid-afternoon in response to daytime heating allowing surface based thunderstorms to develop across Ireland. A few thunderstorms are also likely to develop across western Scotland in response to weak convergence and topographic forcing, although instability will be less and forecast profiles are drier (compared with Ireland).
Southwestern Britain...
Weak mid-level instability will be present across southern Britain, although midlevel profiles are very dry, so showers are expected to be very isolated, and not likely to produce lightning.