| | |
| --- | --- |
| Convective Outlook: Sat 09 Jun 2018 | |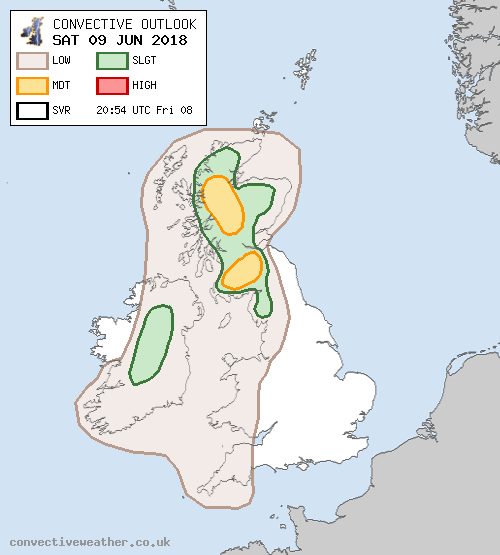 Convective Outlook
VALID 06:00 UTC Sat 09 Jun 2018 - 05:59 UTC Sun 10 Jun 2018
ISSUED 20:54 UTC Fri 08 Jun 2018
br> br>
ISSUED BY: Chris
Widespread thunderstorms are expected across parts of Scotland and Ireland on Saturday afternoon...
A shortwave trough and associated positive vorticity advection will spread northeastwards across Scotland during Saturday helping to promote mass ascent. This combined with slack surface pressure and daytime heating will help to fuel surface based thunderstorm development into the afternoon.
CAPE values of around 1,000 J/kg will be present across parts of Scotland by the afternoon, however bulk shear will be weak (generally less than 15kts), so storms will likely pulse and perhaps become multi-celluar at times. Orographically enhanced updrafts along with the aforementioned instability could help to generate hail to 1.5cm in diameter in the strongest storms. A few funnels, and perhaps a landspout tornado cannot be ruled out in the earlier stages of thunderstorm development, particularly in the two Moderate risk areas in Scotland.
The biggest impact will be from localised flooding as thunderstorms drift only slowly off to the northeast once they have developed. Local downpours in valleys across Scotland could pose a risk of flash flooding, so please monitor https://floodline.sepa.org.uk/floodupdates/ for flood alerts and warnings, especially into the afternoon.