| | |
| --- | --- |
| Convective Outlook: Sun 10 Jun 2018 | |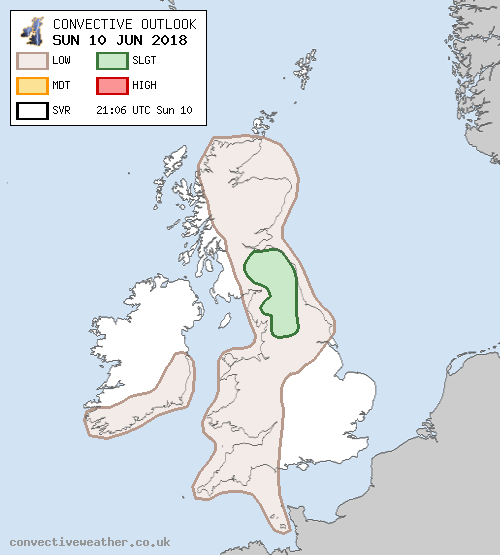 Convective Outlook
VALID 06:00 UTC Sun 10 Jun 2018 - 05:59 UTC Mon 11 Jun 2018
ISSUED 21:06 UTC Sun 10 Jun 2018
br> br>
ISSUED BY: Chris
A slight risk of thunderstorms across northern and northeastern England on Sunday...


After a particularly active day for thunderstorms on Saturday across Scotland the instability shifts southeastwards across eastern parts of Scotland and northern England during Sunday. However, instability will be much less compared to Saturday, with modelled CAPE values of 300-500 J/kg across the slight risk area. In particular some drier air is expected in the mid-levels, noted on forecast soundings for Sunday afternoon. This is due to the upper low/short wave trough moving away from Britain into Scandinavia. This will limit thunderstorm activity, although high resolution models are still keen to develop isolated to scattered thunderstorms from around midday over higher terrain from central and southern Scotland down into northern England. Bulk shear of 20-25kts is forecast and that combined with almost non-existent low level shear, weak surface convergence and low-level CAPE highlights an elevated risk of landspout type funnels across higher ground in N/NE England. Overall though, shear is weak so storms will pulse, perhaps multi-celluar at times, but generally be short-lived. Hail (less than 1cm in diameter) cannot be ruled out, but with warmer mid-level air, it is less likely on Sunday. Precipitable water is in the mid-20s, so while heavy downpours may occur they should be brief, but some localised flash flooding cant be ruled out under the beefier convection.


A few models are also developing isolated heavy showers and perhaps a thunderstorm or two across higher ground in SW England, Wales and western Ireland. However, weak ridging and drier air aloft will limit the potential in these area. There is also the small risk of some elevated showers surviving the trip across the Channel into southwestern England towards mid-morning on Sunday.