| | |
| --- | --- |
| Convective Outlook: Sat 16 Jun 2018 | |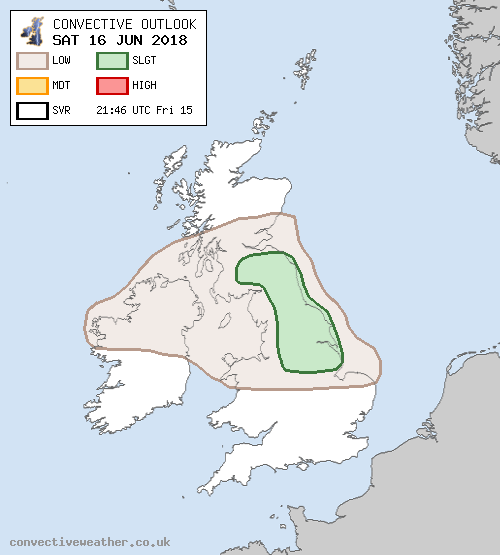 Convective Outlook
VALID 06:00 UTC Sat 16 Jun 2018 - 05:59 UTC Sun 17 Jun 2018
ISSUED 21:46 UTC Fri 15 Jun 2018
br> br>
ISSUED BY: Chris
An upper trough and associated vorticity advection/mass ascent will aid in producing isolated to scattered showers and thunderstorms across the low and slight areas.
Daytime heating (CAPE up to 500 J/kg) timed with maximum PVA ahead of the upper trough will be the fuel for convection, especially across central/northern/eastern England by Saturday afternoon. Cloud cover associated with an occluded front that will move through before the unstable air and drying mid-levels behind the front are limiting factors so the highest risk of lightning remains nearer 30%.
0-6km shear will be around 30-35kts so should allow for some organised convection that will move ENE at about 30-40mph. The largest risk of lighting will be across the SLIGHT risk area between 1500BST and 1900BST. Speed shear could support a few shallow, rotating updrafts with the small risk of a tornado or two possible.