| | |
| --- | --- |
| Convective Outlook: Sat 30 Jun 2018 | |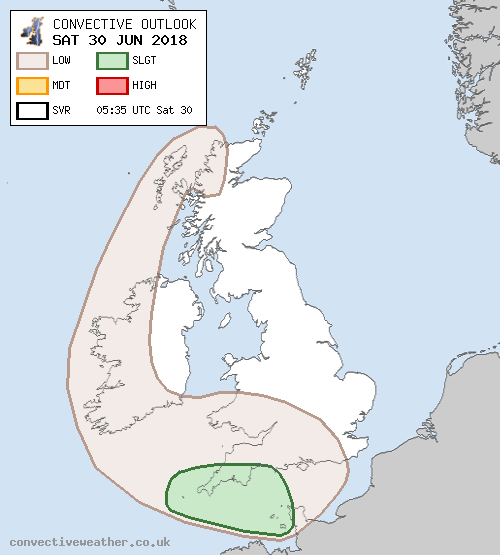 Convective Outlook
VALID 06:00 UTC Sat 30 Jun 2018 - 05:59 UTC Sun 01 Jul 2018
ISSUED 05:35 UTC Sat 30 Jun 2018
br> br>
ISSUED BY: Dan
Omega block, centred over the North Sea, will slowly drift eastwards on Saturday towards Scandinavia. The slow-moving upper low over western Iberia will then slide towards Biscay. The mean flow between these two features will tend to veer, allowing advection of a high ThetaW airmass to occur into S / SW England on Saturday night.
... REPUBLIC OF IRELAND ...
Moisture pooling will likely occur by the afternoon hours as surface dewpoints lift to 15-17C over western portions of Ireland, potentially with significantly lower dewpoints farther east providing a notably sharp boundary. Given the slack surface flow, low-level wind convergence is expected to become more pronounced during the late afternoon, which combined with the approaching Atlantic upper trough may provide enough lift to generate deep convection and a few scattered heavy showers.
Given 300-500 J/kg CAPE, a few sporadic lightning strikes would be possible. However, it must be noted that there are still several model solutions that remain rather unenthusiastic over this potential, and hence this scenario is treated as fairly low risk.
There is also a signal for some elevated convection to develop during the evening and overnight hours, primarily over Connaught / W Ulster, and areas offshore to the N and NW. Some lightning will be possible from this activity also.
... S / SW ENGLAND, S WALES ...
The first signs of elevated convection may begin to develop on Saturday afternoon over the western English Channel, drifting close to Cornwall / Scilly. While isolated lightning cannot be ruled out with this activity, the magnitude of instability will be much more favourable overnight as isentropic lift promotes more significant destabilisation, especially late in the night. Scattered elevated showers should develop across parts of the English Channel, drifting northwestwards across portions of SW England, and perhaps into parts of Cen S England and S Wales.
Current thinking is the best thunderstorm potential exists at the end of the night, between 04:00 - 07:00 BST (and beyond) over Devon/Cornwall/Scilly, associated with a disturbance that ejects from northern Iberia mid-afternoon Saturday. Model guidance continues to exhibit a later initiation of scattered thunderstorms, such that the SLGT may need to be trimmed in northern extent and / or removed should the focus shift beyond this forecast period into Sunday morning.