| | |
| --- | --- |
| Convective Outlook: Sun 01 Jul 2018 | |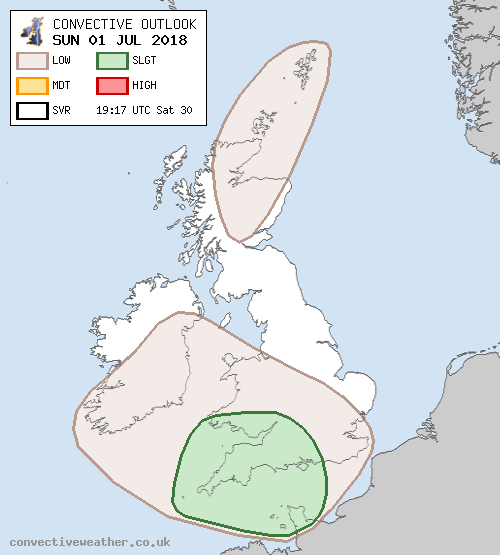 Convective Outlook
VALID 06:00 UTC Sun 01 Jul 2018 - 05:59 UTC Mon 02 Jul 2018
ISSUED 19:17 UTC Sat 30 Jun 2018
br> br>
ISSUED BY: Dan
Upper low will continue to be centred near NW Iberia, with a couple of shortwave impulses emanating from N Iberia and W France drifting N then NW on its eastern flank towards S / SW England. The first shortwave will be responsible for aiding the development of scattered elevated thunderstorms over Devon/Cornwall/Scilly first thing on Sunday morning, as it engages with a plume of high ThetaW advecting from France into southern Britain. This activity will tend to clear northwestwards across the Celtic Sea, though may be followed by renewed pulses of elevated showers/thunderstorms over similar areas.
Farther east, a complicated picture evolves as the moisture / instability plume nudges northeastwards, with potential for both elevated and surface-based thunderstorms over parts of Cen S England and the West Country during the afternoon. Dewpoints of 17-20C will be possible across the area, yielding up to 1,000 J/kg CAPE with PWAT values of 35-40mm. However, there is considerable uncertainty amongst NWP guidance due to the differences in handling of the shape / orientation of the ThetaW plume, and any hangback of cloud following morning elevated convection - both of which will affect how much instability may be available.
Nonetheless, it seems likely that a few thunderstorms will develop over parts of Cen S England and the West Country during Sunday afternoon, drifting into the SW Midlands and S Wales - though probably with a weakening trend. Confidence in placement and coverage of any scattered thunderstorms is not high enough to warrant a MDT for now. If the higher values of instability do develop, then hail up to 1.5cm in diameter will be possible, along with frequent lightning and the threat for localised surface water flooding - especially given the current dry ground. In all cases, elevated thunderstorms initially pose a threat for exacerbating the wildfire risk given lightning occurring over tinder-dry vegetation, before any substantial rainfall makes it to the ground.
Further scattered elevated showers / thunderstorms may continue to develop in a rather random fashion during the evening and overnight hours over parts of Wales / West Country / Midlands / Cen S England, as subtle forcing aloft engages the remnant instability plume in place.