| | |
| --- | --- |
| Convective Outlook: Fri 13 Jul 2018 | |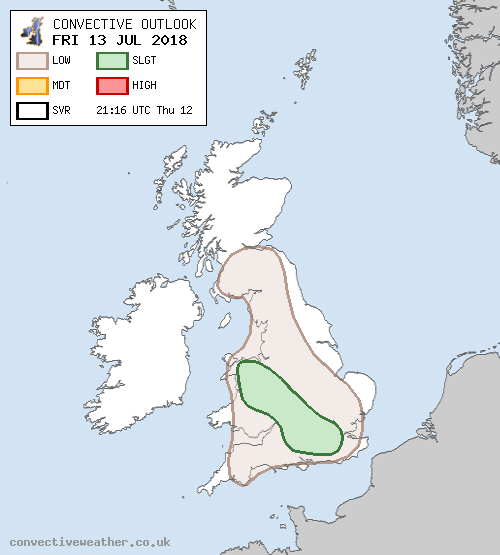 Convective Outlook
VALID 06:00 UTC Fri 13 Jul 2018 - 05:59 UTC Sat 14 Jul 2018
ISSUED 21:16 UTC Thu 12 Jul 2018
br> br>
ISSUED BY: Dan
A reservoir of relatively cool air aloft, associated with an old shortwave, continues to linger over England and Wales during Friday, slowly clearing to the east. Similar to Thursday, forecast profiles look rather moist but with less in the way of warm noses aloft. Diurnal heating should help yield 400-800 J/kg CAPE, which combined with low-level convergence (and some aspects of orographic forcing) will enable the development of well-scattered showers and a few thunderstorms.
Speed shear is once again rather weak, although there are some elements of directional shear - either way, pulse-type convection is expected with any individual shower/thunderstorm lasting less than an hour. Cloud depth should be greater than on Thursday, with a better chance of some sporadic lightning, though once again profiles do look rather saturated which would serve to limit buoyancy and reduce lightning potential.
A low-end SLGT has been issued where lightning is more likely to occur. Main threats will be local surface water issues, especially considering existing very dry ground with dust/dirt deposits on roads likely to make surfaces rather slippery when wet.