| | |
| --- | --- |
| Convective Outlook: Mon 30 Jul 2018 | |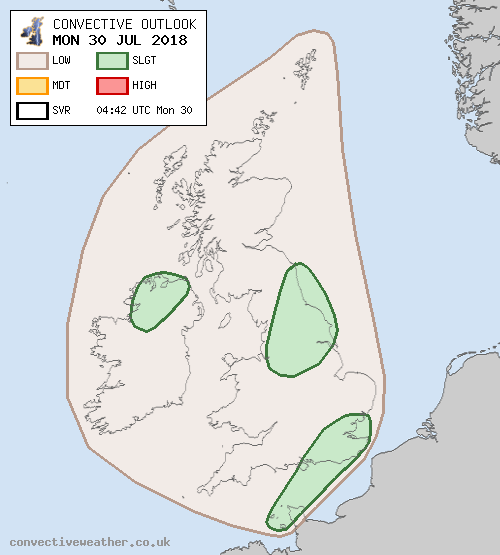 Convective Outlook
VALID 06:00 UTC Mon 30 Jul 2018 - 05:59 UTC Tue 31 Jul 2018
ISSUED 04:42 UTC Mon 30 Jul 2018
br> br>
ISSUED BY: Dan
Broad upper low continues to be centred south of Iceland, providing strong mid/upper level flow across the British Isles. Cold air aloft atop diurnal heating and SSTs will generate several hundred J/kg CAPE, with numerous showers affecting northern and western parts of the British Isles.
... NORTHERN IRELAND / NW REPUBLIC OF IRELAND ...
A little reluctant to issue a SLGT here given limited instability, but shear may be sufficient to aid in some sporadic lightning activity on Monday afternoon associated with scattered showers - though would prefer to treat point probability of lightning at less than 30% (i.e. sub-SLGT). A similar environment will also exist over western Scotland, both Highlands and islands.
... NORTHERN ENGLAND ...
Profiles look somewhat capped at 650/700mb for much of the day, limiting convective depth - however, an approaching shortwave should help to cool the mid-levels and remove most of this cap, allowing a greater depth of convection to become possible from mid-afternoon onwards. The strongly-sheared environment should allow for some cell organisation, with gusty winds and hail possible from the most intense cores, before the activity moves offshore during the evening.
... SE ENGLAND ...
Main focus here is late on Monday night into Tuesday morning. A pronounced shortwave over the mid-Atlantic will rapidly swing round the base of the broad upper low, approaching Brest around 00z, Cherbourg at 03z and inland Kent/Sussex by 06z, while intensifying. This increasingly strong forced ascent will allow a cluster of heavy showers to develop, drifting from the Channel Islands towards SE England during the early hours of Tuesday. Some lightning activity seems quite likely, with the potential for hail and gusty winds - in fact a tornado cannot be ruled out.