| | |
| --- | --- |
| Convective Outlook: Fri 03 Aug 2018 | |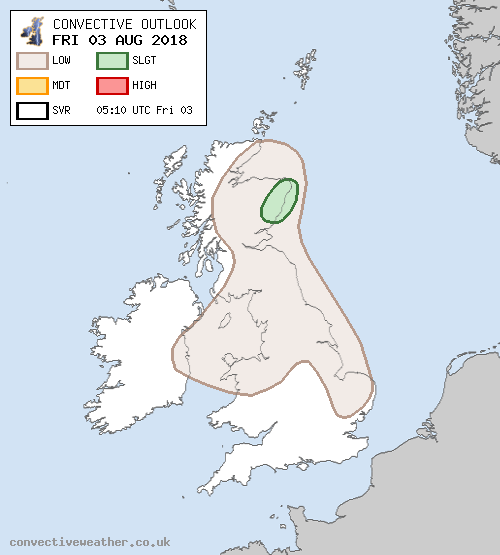 Convective Outlook
VALID 06:00 UTC Fri 03 Aug 2018 - 05:59 UTC Sat 04 Aug 2018
ISSUED 05:10 UTC Fri 03 Aug 2018
br> br>
ISSUED BY: Dan
An embedded shortwave within the strong upper flow across the British Isles will track across northern England / southern Scotland on Friday morning, inducing a wave along the trailing cold front. This forced ascent may result in mid-level instability release, with the chance for some sporadic lightning - perhaps most likely near the coast of NE England and then points offshore. Some reasonable speed shear will exist to enable cells to become somewhat organised. Confidence on lightning coverage is not particularly high, so will refrain from issuing a SLGT for now.
Profiles by the afternoon become more capped to surface-based convection as upper ridging builds in the wake of the earlier shortwave - though still sufficiently deep to allow a few heavy showers to develop over northern England and / or southern Scotland.
The main exception is eastern Scotland where profiles look more favourable for deeper convection for a longer period of time, perhaps overlapping with daytime heating. A surface low will also form in the area during the afternoon hours, with low-level convergence and orographic forcing aiding in the development of scattered heavy showers, some capable of producing sporadic lightning. Some uncertainty over how much lightning activity there will be given gradual subsidence developing aloft, but weak, converging surface flow may allow a few funnel clouds to form.