| | |
| --- | --- |
| Convective Outlook: Fri 10 Aug 2018 | |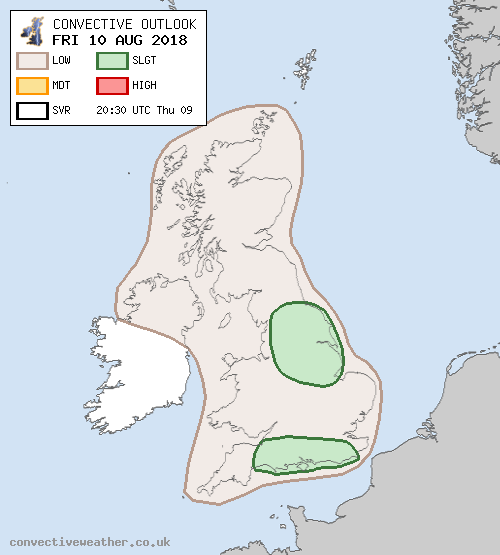 Convective Outlook
VALID 06:00 UTC Fri 10 Aug 2018 - 05:59 UTC Sat 11 Aug 2018
ISSUED 20:30 UTC Thu 09 Aug 2018
br> br>
ISSUED BY: Chris
A sharp upper trough will move from west to east across the British Isles on Friday bringing the potential for widespread convection/showers. Ridging/rising heights will follow the trough bringing drier, more settled conditions into Ireland and eventually western/southwestern Britain later in the day. Widespread showers and several thunderstorms are expected, especially across parts of England.
Generally moist profiles and surface to 500mb delta-Ts reaching into the mid-40s will help to generate in excess of 500 J/kg of CAPE by the afternoon across much of central and eastern parts of England. Even further north into Scotland, as well as parts of Wales and northern and eastern parts of Ireland will see convection quite early on before ridging begins to limit the risk later. Shear profiles are relatively weak in central and northern Britain, but there is a pocket of higher shear across southern England that could help invigorate shower potential in southern England during the afternoon (perhaps with a few embedded line-segments).
As a result, heavy showers and a few thunderstorms are possible across a large part of the British Isles, but the favoured zones for lightning potential seem to be across northern England, south to a line from Liverpool Bay to the Wash (higher CAPE), and across southern England south of the M4 (higher shear).
Showers will peak with afternoon heating, and generally fade away with a combination of the upper trough clearing eastwards and the lack of surface insolation.
Heavy downpours with localised flash flooding will be the largest risk, along with some hail to 1-1.5cm under the deepest convective cores in the northern SLGT area.