| | |
| --- | --- |
| Convective Outlook: Tue 18 Sep 2018 | |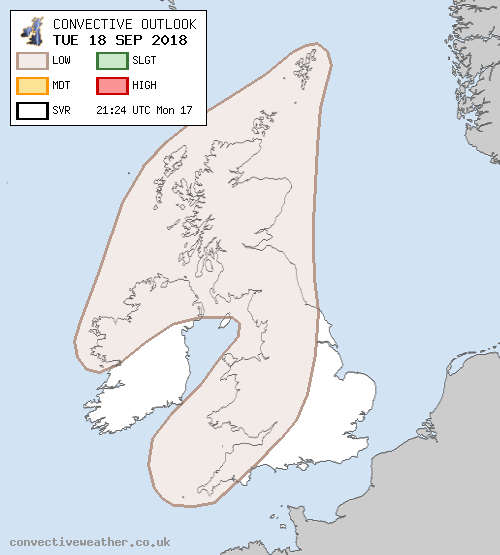 Convective Outlook
VALID 06:00 UTC Tue 18 Sep 2018 - 05:59 UTC Wed 19 Sep 2018
ISSUED 21:24 UTC Mon 17 Sep 2018
br> br>
ISSUED BY: Dan
Remnants of ex-Hurricane Helene continue to clear from Scotland during Tuesday, with the main convective interest then turning to typical autumnal cold air aloft atop warm SSTs scenario, courtesy of a broad upper trough over the North Atlantic.
Strong upper forcing will develop and swing across Northern Ireland late afternoon/early evening, then Scotland during the remainder of the evening. Forecast profiles exhibit a few hundred J/kg CAPE within a strongly-sheared environment. Some deep convection and heavy showers can be expected over these areas during the time periods mentioned, and while instability may be meagre the shear component may be enough to compensate to generate a few sporadic lightning strikes. Squally winds and hail may be possible with the strongest cells, while an isolated tornado cannot be ruled out given hints of both speed and directional shear for a short period in the evening along the leading edge of the triple point.
Father south, the trailing cold front across Wales and SW England may exhibit some convective component during the evening hours, especially given the strongly-sheared environment. In general, limited convective depth suggests lightning is rather unlikely but non-zero. Strong gusts of wind probably the main threat with this activity.