| | |
| --- | --- |
| Convective Outlook: Thu 11 Oct 2018 | |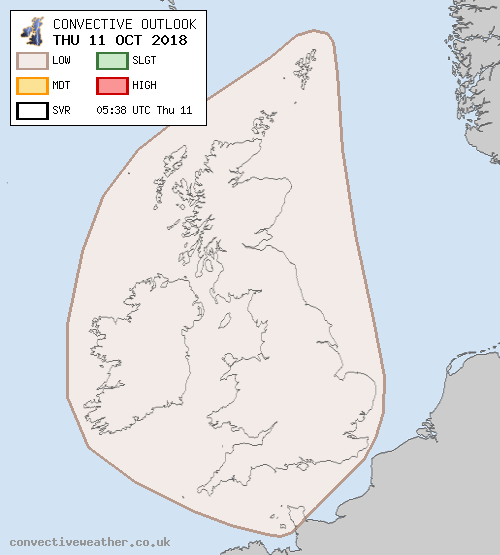 Convective Outlook
VALID 06:00 UTC Thu 11 Oct 2018 - 05:59 UTC Fri 12 Oct 2018
ISSUED 05:38 UTC Thu 11 Oct 2018
br> br>
ISSUED BY: Dan
A complex pattern exists for Thursday, with various areas of interest for convective development. Firstly, the residual moisture plume (having advected northwards from France on Wednesday night) may continue to be engaged by a shortwave, as it continues to drift NE-wards across northern and eastern England on Thursday morning. Showery outbreaks of rain are likely in places with the potential for a few sporadic lightning strikes, but difficult to be specific as to where (a blend of model guidance would suggest the Midlands or East Anglia).
Next, the attention turns to a rather active cold front, already over the Republic of Ireland on Thursday morning, which will continue to push eastwards across the remainder of Britain during the afternoon and evening hours. On the forward side of the main Atlantic upper trough, the environment will be strongly sheared, with some 50kts DLS, alongside reasonable low-level moisture (dewpoints of 13-14C).
This in itself should allow some line segments to develop along the front, capable of very heavy rain and squally winds in places. This activity may become further enhanced by diurnal heating of the moist low-level airmass across central and eastern Britain, ahead of the cold front on Thursday afternoon. CAPE is rather marginal, and forecast profiles look a little saturated close to the frontal boundary, but forcing and shear may be enough to compensate for some isolated lightning. In either case, given the sheared environment and low cloud base, an isolated tornado cannot be ruled out - moreso across England during the afternoon hours.
With stronger forcing evolving during the evening hours, there is the potential for some elevated thunderstorms to develop close to or over SE England just ahead of the cold front, which may also clip the coast of East Anglia - a SLGT may be issued for these areas if confidence in placement increases (since most lightning activity will likely be offshore).
Scattered showers may also develop over Ireland in the post-frontal environment during the afternoon hours, with a low risk of lightning. Then overnight, the next Atlantic frontal system will cross Ireland, bringing outbreaks of rain - on the rear side (after midnight), line segments may develop given the strongly-sheared environment, capable of producing squally winds and perhaps a tornado.