| | |
| --- | --- |
| Convective Outlook: Tue 06 Nov 2018 | |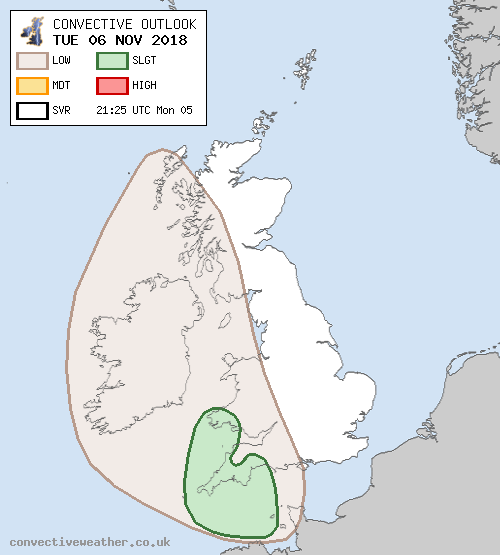 Convective Outlook
VALID 06:00 UTC Tue 06 Nov 2018 - 05:59 UTC Wed 07 Nov 2018
ISSUED 21:25 UTC Mon 05 Nov 2018
br> br>
ISSUED BY: Dan
A complicated upper pattern exists on Tuesday, with an upper low over the Pyrenees weakening allowing elements of upper forcing to be drawn northwards across the British Isles on the forward side of the main Atlantic upper trough. At the same time, the next Atlantic upper trough will pivot such that it becomes more negatively-tilted as it crosses Biscay on Tuesday night into SW England by Wednesday morning.
Through Tuesday daytime, elements of elevated convection from mid-level instability release will produce some sporadic bursts of showery rain across some central and eastern parts of the British Isles - but similar to Monday, the risk of lightning is considered very low (below 5%), and hence no threat level has been issued.
A series of frontal zones will provide pulses of occasionally heavy rain northwards over Ireland and western Britain throughout this forecast period, which may produce some localised sporadic lightning, but the vast majority will probably remain lightning-free at this point.
The main interest is during Tuesday evening and night as stronger upper forcing approaches, overlapping warm, moist low-levels (and atop warm SSTs), helping to generate 400-700 J/kg CAPE. Cyclogenesis is also expected to occur close to or over SW England, encouraging a wrap-around occlusion to develop. Given this environment, an increase in lightning activity seems likely amongst a rather messy precipitation pattern. Strong gusts of wind and hail up to 1.5cm in diameter will be possible with the most intense cells, while an isolated tornado cannot be ruled out. There is a risk of localised flooding where convergence zones develop across SW England and/or west Wales, providing prolonged heavy downpours.