| | |
| --- | --- |
| Convective Outlook: Mon 12 Nov 2018 | |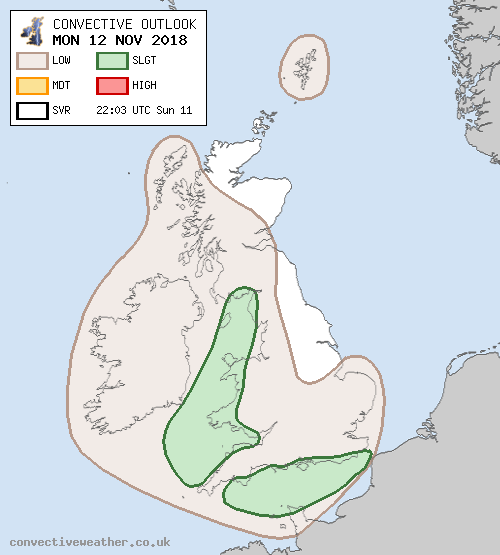 Convective Outlook
VALID 06:00 UTC Mon 12 Nov 2018 - 05:59 UTC Tue 13 Nov 2018
ISSUED 22:03 UTC Sun 11 Nov 2018
br> br>
ISSUED BY: Dan
Sharpening upper trough will finally move eastwards across the British Isles, the associated cold mid/upper levels atop warm SSTs helping to generate 300-700 J/kg CAPE. Once again numerous showers will develop over open seas, then transferring inland to exposed southern and western coastal counties, and occasionally well-inland as organised troughs / occlusions swing through.
A large low-end SLGT has been issued for the Irish Sea and adjacent land areas where a better overlap of instability and forcing may exist at various stages during this forecast period, allowing some occasional sporadic lightning. Here, shear will be relatively weak under the upper trough axis - however, on the forward side of the upper trough, stronger shear over S / SE England may be enough to compensate for the marginal instability to produce a few lightning strikes associated with showers from the Isle of Wight eastwards on Monday evening - a low-end SLGT has also been issued here for primarily Monday evening and through the overnight hours.
An organised trough will likely develop over the Celtic / Irish Seas during Monday afternoon, driving a band of showers into Wales / SW England during Monday evening, and areas farther east across England and Wales on Monday night. Behind this feature, heights begin to rise as the upper trough swings through, resulting in a reduction in showers from west to east.
The most intense cells may produce hail up to 1.5cm in diameter, accompanied by gusty winds. Showers training over the same areas could produce some localised flooding.