| | |
| --- | --- |
| Convective Outlook: Mon 11 Mar 2019 | |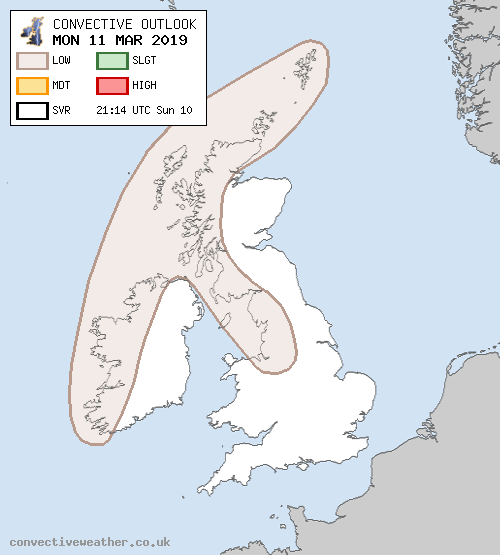 Convective Outlook
VALID 06:00 UTC Mon 11 Mar 2019 - 05:59 UTC Tue 12 Mar 2019
ISSUED 21:14 UTC Sun 10 Mar 2019
br> br>
ISSUED BY: Dan
... SHOWERS MONDAY DAYTIME ...
On Monday morning an upper trough will depart the British Isles, moving across the North Sea, but there may be enough instability / shear overlap to produce a few isolated lightning strikes from scattered showers affecting western exposed areas (NW England, W Scotland, Northern Isles) before ridging from the west results in a marked decrease in convective depth - hence by midday any lightning potential (if any) will be confined to the Northern Isles.
... MONDAY NIGHT COLD FRONT ...
A quiet period will then evolve as the upper ridge traverses the British Isles, but soon followed by the next approaching upper trough from the Atlantic. A frontal system will push across Ireland and W Scotland during Monday afternoon, then eastwards across the remainder of Britain through Monday night.
A tongue of relatively warm, moist low-level air will be drawn northwards ahead of the surface cold front, creating a marked thermal boundary. This combined with a strongly-sheared environment, wind veer along the front and forced ascent will allow line segments to develop capable of producing brief periods of very heavy rain and gusty winds. A few lightning strikes are possible, but overall weak instability and saturated profiles suggests the likelihood of this is very low, and hence no threat levels have been introduced to cover this risk. Given low cloud bases, backed winds in the low-levels and strong low-level shear, a tornado is not ruled out.
The risk of embedded line segments will continue beyond this forecast period into Tuesday as the cold front continues to migrate eastwards across England and Wales.
... MONDAY NIGHT SHOWERS ...
Behind the cold front, cooling aloft atop relatively warm seas will generate a few hundred J/kg CAPE in an environment with increasingly steep mid-level lapse rates. Numerous showers will begin to arrive into western Ireland and the Hebrides during the early hours of Tuesday, capable of producing a few sporadic lightning strikes, small hail and gusty winds - the risk in general increasing with each hour towards the end of the night.