| | |
| --- | --- |
| Convective Outlook: Tue 12 Mar 2019 | |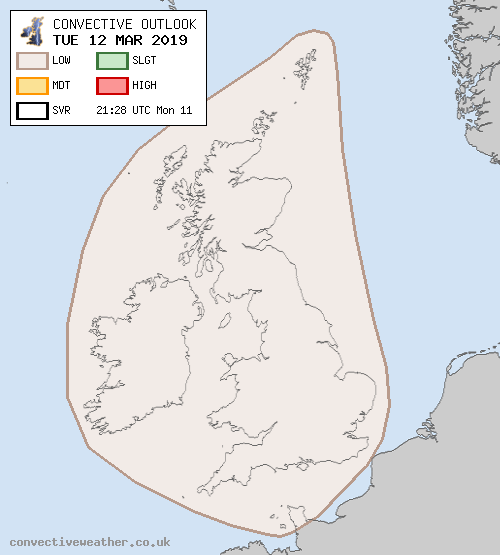 Convective Outlook
VALID 06:00 UTC Tue 12 Mar 2019 - 05:59 UTC Wed 13 Mar 2019
ISSUED 21:28 UTC Mon 11 Mar 2019
br> br>
ISSUED BY: Dan
On the forward side of the larger-scale upper trough, an active cold front will move eastwards across England and Wales on Tuesday. Given a notable thermal gradient, marked wind veer, forced ascent and strongly sheared environment, line segments are expected with localised squalls. The potential for some damaging gusts of wind exists, and a tornado cannot be ruled out. However, weak instability and saturated profiles suggests the risk of lightning is considered very low.
The post-frontal environment is then characterised by notable cooling aloft, with steep mid-level lapse rates and a few hundred J/kg CAPE. Numerous showers are expected to develop over open seas, and move well-inland due to strong steering flow. Several troughs / occlusions will aid in organising more distinct bands of showers at times.
In terms of lightning potential, the best overlap of CAPE and shear will probably occur over western Scotland during Tuesday late afternoon / evening, but confidence is not high enough to upgrade to SLGT at this stage due to the rather messy mix of dynamic and convective precipitation (plus forecast profiles look rather saturated with strong winds throughout the vertical).
In any case, small hail is likely in many of the showers, with strong gusts of wind at times.