| | |
| --- | --- |
| Convective Outlook: Sun 17 Mar 2019 | |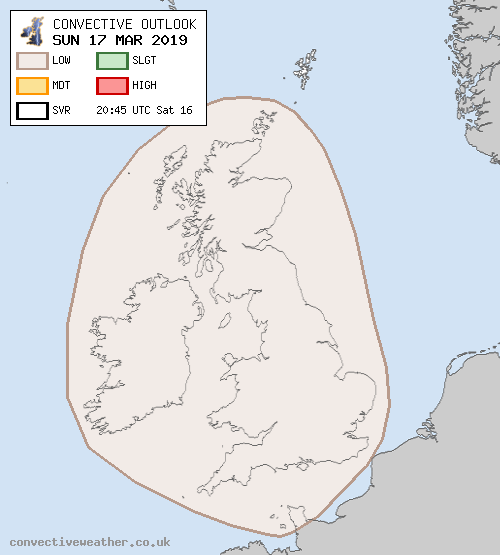 Convective Outlook
VALID 06:00 UTC Sun 17 Mar 2019 - 05:59 UTC Mon 18 Mar 2019
ISSUED 20:45 UTC Sat 16 Mar 2019
br> br>
ISSUED BY: Dan
Broad upper trough covers the British Isles on Sunday, gradually clearing to the east. Cold mid/upper levels will result in steep mid-level lapse rates and a few hundred J/kg CAPE in response to SSTs and diurnal heating inland. Scattered wintry showers are expected, especially in exposed northern and western areas, but steering flow and embedded troughs will help to push showers farther inland / southeastwards at times.
Under the upper trough shear will tend be a little weak (unidirectional and similar speeds at depth), however as the upper trough begins to clear eastwards strengthening flow and veering aloft will tend to increase the shear component across Ireland, and later Wales / SW England. This may help to organise a few of the showers here during the afternoon / early evening, and a low-end SLGT may be introduced to highlight this potential.
For the most part, any lightning activity will tend to be rather sporadic and not particularly long-lasting, given marginal instability and fairly weak shear - and in any case, the risk will diminish during Sunday evening as both daytime heating subsides and the upper trough clears away to the east. Nonetheless, the most intense cells could produce gusty winds and quite a bit of small hail.