| | |
| --- | --- |
| Convective Outlook: Thu 04 Apr 2019 | |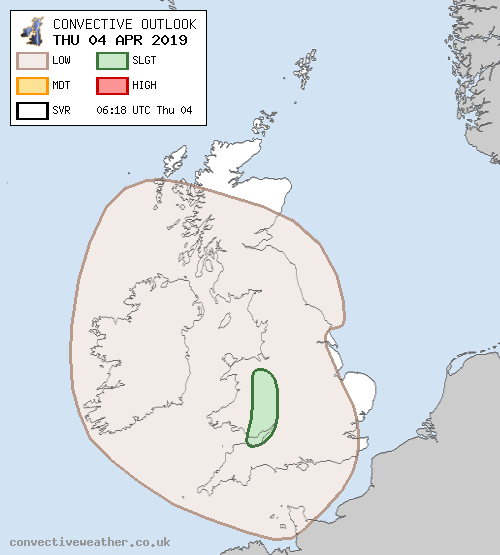 Convective Outlook
VALID 06:00 UTC Thu 04 Apr 2019 - 05:59 UTC Fri 05 Apr 2019
ISSUED 06:18 UTC Thu 04 Apr 2019
br> br>
ISSUED BY: Dan
An upper low will be situated above SW Britain for much of this forecast period, with notably cold mid/upper levels helping to generate very steep mid-level lapse rates and a few hundred J/kg CAPE. A messy surface pattern will exist with areas of dynamic and convective precipitation rotating around a surface low near the Celtic Sea.
At the beginning of the forecast period, a cluster of heavy showers will likely be moving inland from the North Sea from Yorkshire northwards to E Scotland, with perhaps some sporadic lightning. This feature will tend to drift across Scotland while weakening.
Elsewhere, longer spells of rain and hill snow will be affecting portions of Wales / SW + CS England, though this may tend to fragment and turn increasingly convective through the day while pushing further across southern England and the Midlands.
Close to the low centre, numerous showers are expected to develop over Wales / SW England during Thursday also. A favourable overlap of a mid-level dry intrusion, forcing aloft, low-level convergence and reasonable shear may allow a few better-organised cells to develop over the West Country northwards into E Wales and the W Midlands during Thursday afternoon. However, this is very much dependent on the exact shape of the low responsible, and the location of the wrap-around occlusion - with concerns over cloud amounts and cool surface temperatures. A very low-end SLGT has been issued to better highlight this area of interest.
In either case, as with previous days numerous small hail reports are likely and there may also be a few funnel clouds - particularly in west Wales close to the low centre.