| | |
| --- | --- |
| Convective Outlook: Sun 07 Apr 2019 | |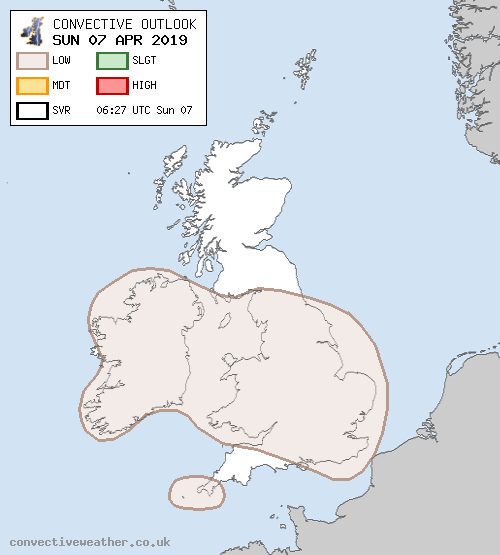 Convective Outlook
VALID 06:00 UTC Sun 07 Apr 2019 - 05:59 UTC Mon 08 Apr 2019
ISSUED 06:27 UTC Sun 07 Apr 2019
br> br>
ISSUED BY: Dan
... SUNDAY MORNING EAST ANGLIA / LINCOLNSHIRE ...
During Sunday, a line of elevated showers will drift westwards across England, and later into Wales, along the leading edge of a relatively high ThetaE plume. Forecast profiles exhibit deep instability (above 900-950mb) atop a shallow cool, moist boundary layer. Subtle forcing aloft, coupled with this somewhat marginal mid-level instability may allow a few sporadic lightning strikes to occur, more especially over parts of East Anglia and the East Midlands. Worth noting that visual of these showers/storms will probably be obscured by low-level cloud and/or fog. Given marginal instability, saturated profiles and only subtle forcing, confidence of lightning coverage is not high enough to issue a SLGT.
... SUNDAY LATE AFTERNOON / EVENING ...
As this line of showers continues to drift westwards during Sunday afternoon, attention then returns to East Anglia / SE England where there is potential for surface-based convection to develop. However, this is heavily dependent on sufficient cloud breaks to allow surface heating to occur.
Should ingredients come together, with air temperatures of 16-17C and dewpoints of 10-12C, there is potential for 400-700 J/kg CAPE to be generated with one or two isolated thunderstorms possible late afternoon into the evening hours - primary focus would be Essex / London / Kent and/or along the M4 corridor, with forcing from low-level convergence. However, most NWP guidance suggests cloud may be slow to clear in the areas of interest, and so no additional threat levels have been issued at this stage.
... SUNDAY NIGHT ...
Any isolated thunderstorms in CS / SE England will tend to fade during the evening hours as daytime heating subsides, however showery bursts of rain with a few isolated lightning strikes remain possible right through the night almost anywhere in a zone from SE England to Northern Ireland, courtesy of pockets of medium-level instability being released in a rather random nature along the residual ThetaE axis.