| | |
| --- | --- |
| Convective Outlook: Sat 08 Jun 2019 | |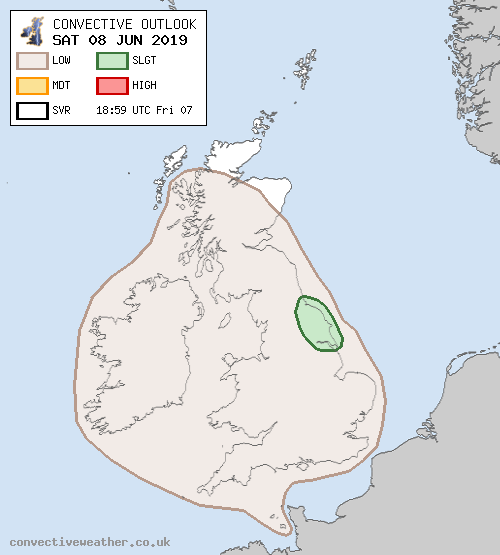 Convective Outlook
VALID 06:00 UTC Sat 08 Jun 2019 - 05:59 UTC Sun 09 Jun 2019
ISSUED 18:59 UTC Fri 07 Jun 2019
br> br>
ISSUED BY: Chris
An area of low pressure will slowly move northeastwards away from eastern England during Saturday.
SLGT:
A large area of showery rain will continue to wrap around the low across northern and eastern Britain. Nearer the centre of the low during the 0900-1500 period, some steeper lapse rates, combined with orographic forcing could generate a few heavy, thundery showers. As the low centre moves away, height rises combined with lessening lapse rates will likely reduce the lightning risk.
LOW:
Elsewhere in the proximity of the low, some pockets of weak instability combined with surface convergence and low level shear may help to generate scattered showers. Profiles remain very moist and given limited deep layer shear and lapse rates, showers are unlikely to produce much, if any lightning.
It is worth noting that due to the low cloud base heights, surface convergence and low level shear a few funnels are possible early in the updraft phases of the showers.