| | |
| --- | --- |
| Convective Outlook: Sun 09 Jun 2019 | |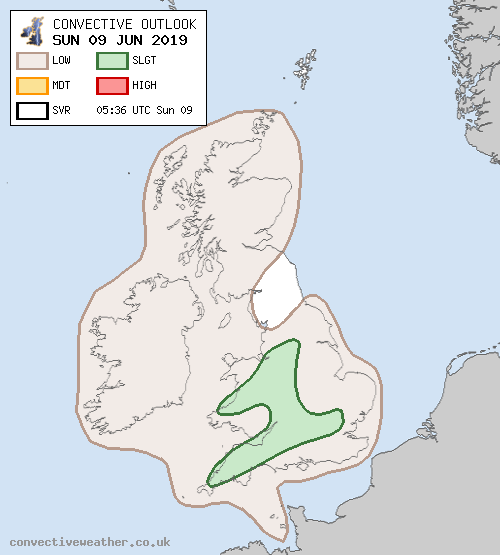 Convective Outlook
VALID 06:00 UTC Sun 09 Jun 2019 - 05:59 UTC Mon 10 Jun 2019
ISSUED 05:36 UTC Sun 09 Jun 2019
br> br>
ISSUED BY: Chris/Dan
A broad upper trough will persist to the west of the British Isles on Sunday and help to generate moderately steep lapse rates and the potential for widespread scattered showers, aided by and organised along zones of low-level wind convergence.
Daytime heating will produce 200-400 J/kg of CAPE by early afternoon across much of British Isles, although shear is limited in many areas so showers will likely be of the pulse variety, which will tend to limit the lightning potential somewhat. However, as showers develop and move eastwards across England and Wales, bulk shear values increase to 25-30kts and may allow for some longer lived updrafts and a higher chance of some sporadic lightning - hence a low-end SLGT has been issued here. A few isolated funnel clouds will be possible, particularly in Scotland and southern Ireland where the mean flow will be relatively slack. The most intense cells may produce some small hail.
While showers, and hence any lightning activity, will tend to weaken during the evening / night hours inland, an uptick in activity may occur over the Celtic Sea and adjacent parts of Wales / SW England / Scilly Isles during the overnight hours under the upper trough axis.