| | |
| --- | --- |
| Convective Outlook: Wed 12 Jun 2019 | |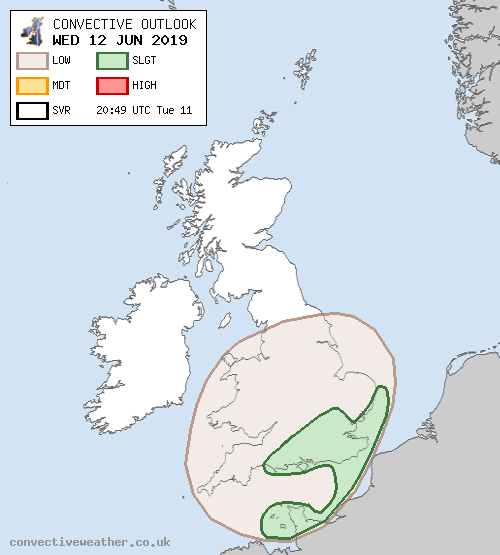 Convective Outlook
VALID 06:00 UTC Wed 12 Jun 2019 - 05:59 UTC Thu 13 Jun 2019
ISSUED 20:49 UTC Tue 11 Jun 2019
br> br>
ISSUED BY: Dan
Once again, broad upper trough will cover western Europe on Wednesday, with the main upper low centred over the Brest peninsula. The main trough will be somewhat negatively-tilted at first, become neutral then positively-tilted by the evening as the upper low begins to lift/extend northwards across England during Wednesday night.
The forecast evolution is rather messy due to various pulses of showery rain rotating eastwards along the northern flank of the dominating low, containing a mixture of dynamic and convective precipitation. Any of these pulses of rain could contain some embedded elevated convection, and hence carry a risk of a few isolated lightning strikes - especially across East Anglia / SE England during the morning hours, then NW England / N Wales late afternoon / early evening. Confidence on lightning coverage associated with these features is not particularly high, and so have refrained from introducing any specific SLGTs for now.
... S / SE ENGLAND - AFTERNOON/EVENING ...
Provided there is sufficient insolation across southern England, then cool air aloft coupled with surface heating of a moist low-level airmass (11-13C dewpoints) should yield 300-700 J/kg MLCAPE. Low-level wind convergence, derived from a combination of sea breeze, trough axis and even differential heating boundary (quasi dryline) will likely provide the trigger for a few scattered showers and thunderstorms to develop over southern counties of England during the afternoon and evening hours. Thunderstorms are also likely over the Cherbourg peninsula, drifting close to the Channel Islands.
Close to the upper low, shear will be rather weak with fairly unidirectional winds with height - that said, reasonable flow at the EL should act favourably for venting. Hail will be possible from the most intense cells, with a risk of surface water flooding given slow storm motion and existing saturated ground.
During the evening hours the risk of a few showers/thunderstorms may expand across the northern Home Counties before a general weakening trend occurs by late evening.
... EAST ANGLIA / SE ENGLAND - OVERNIGHT ...
As the upper trough extends / lifts northwards on Wednesday night, the associated cool mid-levels overspreading the in-situ warm, moist low-level airmass will serve to increase instability, particularly over the eastern English Channel and southern North Sea. Consequently an increase in coverage of a few scattered showers / thunderstorms seems plausible, particularly during the early hours, hence the inclusion of a SLGT for coastal parts of East Anglia - although this may need extending farther inland depending on trends.