| | |
| --- | --- |
| Convective Outlook: Thu 13 Jun 2019 | |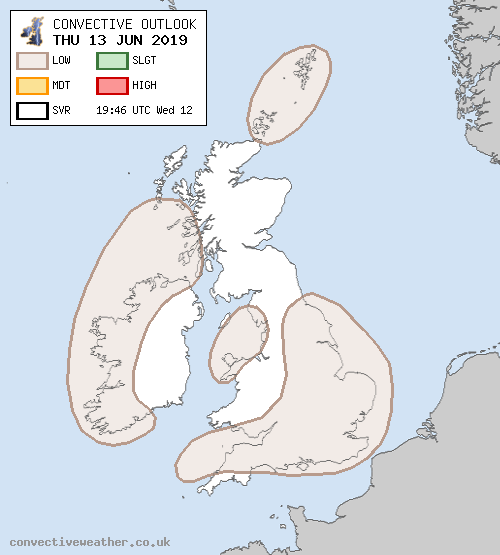 Convective Outlook
VALID 06:00 UTC Thu 13 Jun 2019 - 05:59 UTC Fri 14 Jun 2019
ISSUED 19:46 UTC Wed 12 Jun 2019
br> br>
ISSUED BY: Dan
Upper trough persists over northwest Europe on Thursday, the main parent upper low drifting north over the North Sea before translocating to western Scotland by Friday morning. At the surface an occluded front will pivot westwards across Scotland, but eastwards across England and Wales.
... EAST ANGLIA ...
Ahead of the frontal rain associated with the aforementioned occluded front, there may be a window of opportunity for some diurnal heating of the moist low-level airmass (dewpoints 10-12C), potentially yielding up to 500 J/kg CAPE. Consequently, a few scattered showers would be possible, capable of producing some sporadic lightning. Shear is a little weak and forecast profiles rather saturated, which may limit the lightning potential somewhat. This is dependent on sufficient cloud breaks in the morning hours, which is uncertain depending on how widespread / far east the frontal rain over the Midlands may be. For now have refrained from introducing a SLGT until confidence on these aspects improves.
... ENGLAND / SE WALES ...
Despite extensive cloud, weak diurnal heating will likely be sufficient for some shallow convective development near the occluded front, aided by the marked wind veer along the boundary - particularly during the afternoon hours over SE Wales / W Country / Midlands / Yorkshire. Some linear segments may develop with time, capable of producing some heavy bursts of rain - but overall convective depth will likely be too shallow for much (if any) lightning.
There may also be a few low-topped heavy showers in the post-frontal environment over northern England during Thursday afternoon.
... W IRELAND / IRISH SEA / NORTHERN ISLES ...
Main risk for the remaining areas will be during Thursday night where an isolated lightning strike cannot be ruled out associated with scattered showers - though most areas will remain void of lightning.