| | |
| --- | --- |
| Convective Outlook: Wed 10 Jul 2019 | |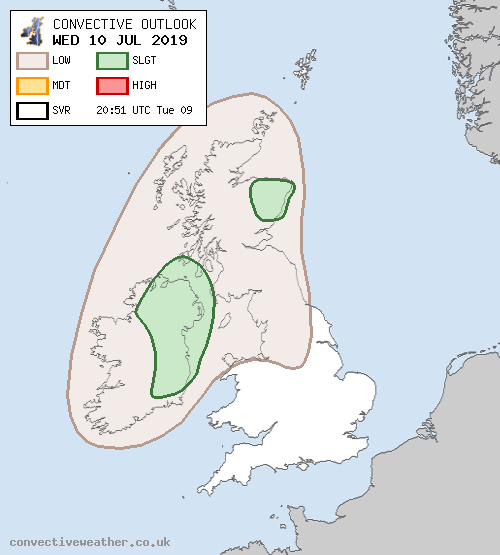 Convective Outlook
VALID 06:00 UTC Wed 10 Jul 2019 - 05:59 UTC Thu 11 Jul 2019
ISSUED 20:51 UTC Tue 09 Jul 2019
br> br>
ISSUED BY: Dan
Upper ridge initially over the British Isles on Wednesday will gradually retreat to the southeast, allowing an upper trough to approach from the Atlantic and ultimately allowing the flow aloft to gradually flatten. The surface pattern is rather messy, with fairly extensive cloud layers courtesy of a broad warm sector - surface dewpoints will widely be between 13-15C, but 16-17C widely over Ireland behind a second warm front which will move eastwards across the island during Wednesday morning / early afternoon.
In general, cloud cover could be a major inhibiting factor for deep convection - however, guidance favours some clearance over eastern Scotland and portions of Ireland during the afternoon and evening hours. Provided sufficient heating of this rather moist low-level airmass occurs, scattered heavy showers may develop.
Over Scotland cloud depth may be somewhat limited, which combined with very weak shear suggests that there may not be much in the way of lightning activity, despite the potential for heavy, slow-moving "pulse type" showers. We have tentatively included a low-end SLGT to highlight the main area of interest, and it could be the case that most activity occurs quite late in the day (i.e. in the evening hours). Localised surface water flooding is the main concern given slow movement of showers.
A low-end SLGT has also been issued for parts of Northern Ireland / Republic of Ireland, where a slightly better environment will exist for lightning potential. It seems plausible that scattered showers and a few thunderstorms could develop during the afternoon through the central areas, drifting to the NE with time - with most activity then weakening and/or clearing to the Irish Sea by mid-evening. A few isolated strikes from elevated convection is also not out of the question along northwest Atlantic coasts, running NE into W Scotland during the evening/night hours, though confidence is not particularly high given a lack of widespread NWP support.