| | |
| --- | --- |
| Convective Outlook: Wed 07 Aug 2019 | |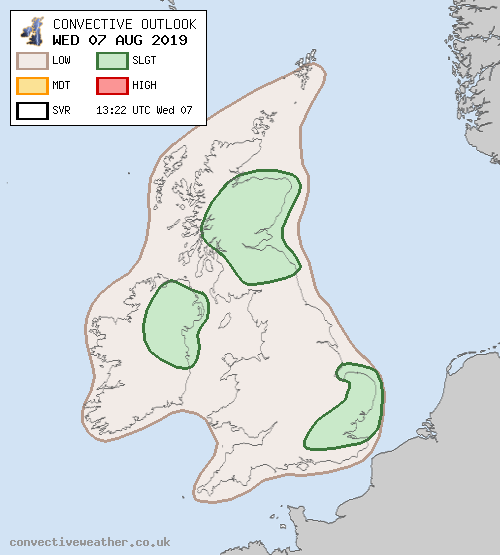 Convective Outlook
VALID 06:00 UTC Wed 07 Aug 2019 - 05:59 UTC Thu 08 Aug 2019
ISSUED 13:22 UTC Wed 07 Aug 2019
br> br>
ISSUED BY: Dan
UPDATE 13:22 UTC Low-end SLGT introduced across East Anglia / SE England where the stronger shear is helping updraft organisation and resulting in some localised sporadic lightning from the strongest cells this afternoon / early evening
An upper low near eastern Scotland will drift slowly across the North Sea towards southern Norway. The proximity to the associated cold pool will create an environment with marginally-steep mid-level lapse rates across the British Isles, which combined with diurnal heating could yield up to 1,000 J/kg CAPE across Scotland in particular.
On Wednesday morning, showery bursts of rain affecting eastern Scotland, associated with a wrap-around occlusion, may contain some embedded sporadic lightning. This feature is expected to slowly drift away to the east, allowing increased insolation inland to enable scattered showers and a few thunderstorms to develop for the afternoon and evening hours. Weak shear and slow storm motion will lead to largely "pulse type" convection here, with a risk of localised surface water flooding from prolonged downpours. Hail up to 1.5cm in diameter will be possible in the strongest cells. Showers/storms will generally drift to the ESE / SE.
Shear will be stronger farther south, but with rising heights the convective depth will tend to be more restricted, which will overall limit how much lightning an individual shower may produce. Aside from the chance of some sporadic lightning in parts of northern and eastern Ireland, a few isolated strikes may be possible over SE England where low-level convergence may aid ascent, but confidence on coverage here is not high enough to introduce a small low-end SLGT for now.