| | |
| --- | --- |
| Convective Outlook: Fri 09 Aug 2019 | |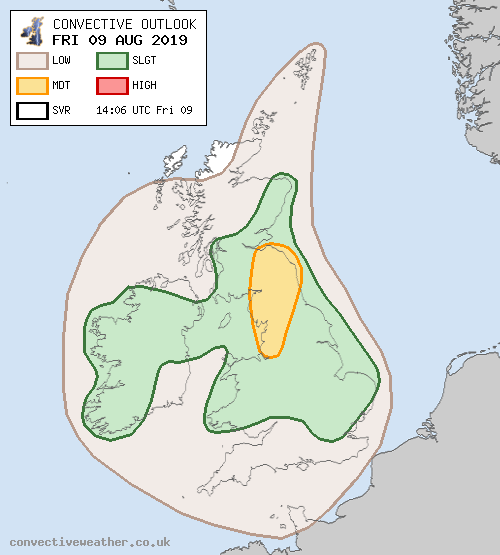 Convective Outlook
VALID 06:00 UTC Fri 09 Aug 2019 - 05:59 UTC Sat 10 Aug 2019
ISSUED 14:06 UTC Fri 09 Aug 2019
br> br>
ISSUED BY: Dan
UPDATE 14:06 UTC Adjustments made to SLGT, including extending across East Anglia / London for late afternoon / early evening
An upper low will swing northeastwards across Ireland on Friday, reaching Scotland by Saturday morning. An occluding frontal system will stretch from Northern Ireland to southern Scotland and northern and eastern England first thing on Friday morning, gradually lifting northwards through the day. Pockets of embedded elevated convection will be possible, although pinpointing exactly where some sporadic lightning may occur is near-impossible and overall is not expected to be too widespread.
A wrap-around occlusion will provide for the focus for a band of heavy, showery rain over the Celtic Sea and southern Ireland on Friday morning, encircling the main surface low. This whole system, including band(s) of showers / showery rain, will gradually migrate northeastwards across the whole of Ireland and Irish Sea into Wales, western and northern England and southern Scotland. Some sporadic lightning will be possible in places, but dependent somewhat on sufficient cloud breaks to allow adequate surface heating in-between the showers.
Either way, strong steering winds will ensure relatively fast movement of individual showers across England and Wales, although this high momentum may be mixed down to the surface at times in downdrafts to produce some gusty winds. Since a single shower is unlikely to last for long, this will ultimately limit how much rain accumulates - but elements of shower training could occur which may exacerbate existing saturated ground. An isolated tornado will be possible given strong low-level shear.
Over Ireland, the proximity to the upper low will result in more "pulse type" convection given weaker shear and slower storm motion, which brings the risk of localised flooding from prolonged downpours.
In-between the early morning frontal rain clearing and the first (of many) wrap-around portions of the occlusion arriving, a window of clearer sky will exist for better diurnal heating across northern England and southern Scotland. Given surface dewpoints of 15-19C (at least for a time early afternoon), up to 1,000 J/kg CAPE will be possible. A strip of dry mid-level air will overlay this warm, moist low-level airmass, creating a rather unstable environment with reasonably steep mid-level lapse rates. If sufficient heating can occur, scattered showers and a few thunderstorms could develop.
The main risk period with a favourable overlap of various ingredients will be 10z-15z, but there could be a second wave of showers/thunderstorms late afternoon lingering well into the evening hours. Given the potential for a couple of waves of shower/thunderstorm activity, a low-end MDT has been issued. Given the sheared environment, a supercell may be possible, capable of producing hail up to 2.0cm in diameter and perhaps an isolated tornado. If confidence increases in the tornado and/or hail threat, a SVR may be introduced - primarily for N Wales / NW England and extending northeastwards from there.