| | |
| --- | --- |
| Convective Outlook: Sat 10 Aug 2019 | |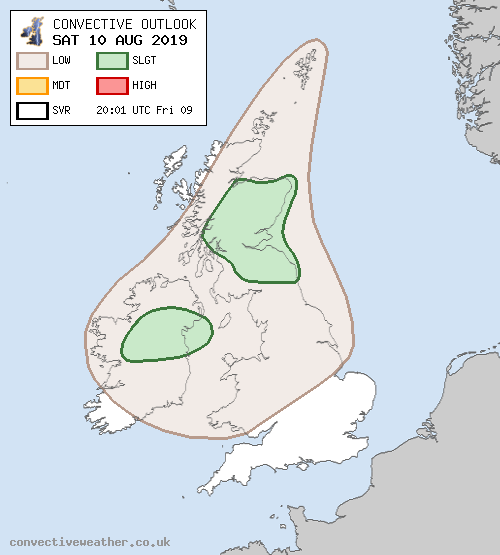 Convective Outlook
VALID 06:00 UTC Sat 10 Aug 2019 - 05:59 UTC Sun 11 Aug 2019
ISSUED 20:01 UTC Fri 09 Aug 2019
br> br>
ISSUED BY: Dan
A vertically-stacked low will drift slowly northeastwards across Scotland during Saturday, the associated cold pool creating an environment with marginally steep mid-level lapse rates, and 600-900 J/kg CAPE in response to diurnal heating. Assuming sufficient cloud breaks occur, scattered heavy showers and a few isolated thunderstorms may develop by the afternoon and early evening hours.
Weak shear will result in "pulse type" convection, with slow storm motion bringing the risk of localised surface water flooding from prolonged downpours. This combined with fairly saturated profiles suggests the lightning potential is quite limited, and many areas within the SLGT will likely remain void of any lightning. A couple of funnel clouds will be possible as low-level vorticity gets stretched upwards by passing updrafts.
Cloud cover is likely to be fairly extensive across Ireland courtesy of several occluded fronts - however, 500-700 J/kg CAPE could develop by the afternoon hours. Low-level convergence along and to the north of the frontal boundary could allow some heavy bursts of showery rain to develop, with some sporadic lightning - although given saturated profiles and weak shear, the coverage of lightning is rather uncertain.