| | |
| --- | --- |
| Convective Outlook: Sun 11 Aug 2019 | |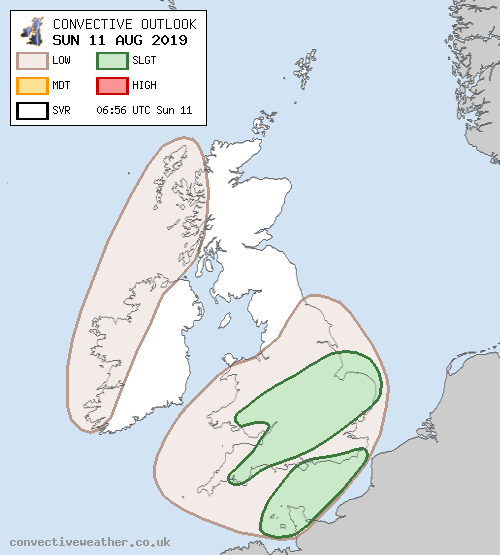 Convective Outlook
VALID 06:00 UTC Sun 11 Aug 2019 - 05:59 UTC Mon 12 Aug 2019
ISSUED 06:56 UTC Sun 11 Aug 2019
br> br>
ISSUED BY: Dan
UPDATE 06:56 UTC SLGT extended across East Anglia and SW England
An upper trough will slowly migrate eastwards across the British Isles on Sunday, the main cold pool tracking over the Celtic Sea and southern Britain / English Channel. This will create an environment with marginally-steep mid-level lapse rates, yielding 300-500 J/kg CAPE in response to diurnal heating inland / seasonally warm SSTs.
Scattered showers are expected to affect central / southern parts of Britain in particular, moving generally to the E or ENE - perhaps organised into one or two distinct SW-NE bands aided by low-level convergence. Despite reasonably-sheared profiles, CAPE will be rather skinny with notably dry mid/upper levels - this may act as a cap limiting convective depth, and hence lightning potential. However, any convection that can grow deep enough into the dry air aloft could produce some sporadic lightning given the increased potential instability (in an already sheared environment). A low-end SLGT has been issued, but it is inevitable many areas will remain void of lightning. The best potential appears to be farther south, where the deepest convection is most likely (a zone from Somerset/Dorset northeastwards to East Anglia).
Overnight, most showers inland will fade away as diurnal heating subsides, but scattered showers will arrive from the Atlantic over western Ireland and western Scotland, while other heavy showers and a few thunderstorms develop over parts of the English Channel as instability increases. This is more akin to an autumn/early winter type setup.