| | |
| --- | --- |
| Convective Outlook: Mon 12 Aug 2019 | |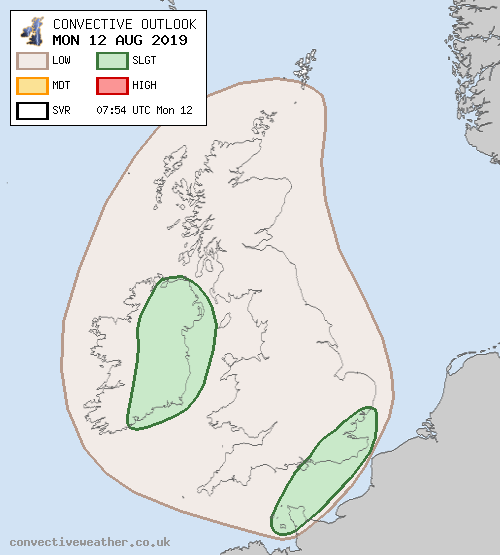 Convective Outlook
VALID 06:00 UTC Mon 12 Aug 2019 - 05:59 UTC Tue 13 Aug 2019
ISSUED 07:54 UTC Mon 12 Aug 2019
br> br>
ISSUED BY: Dan
UPDATE 07:55 UTC SLGT extended into E Essex
A broad upper trough will cover the British Isles on Monday, creating an environment with steep mid-level lapse rates and unstable to warm SSTs and/or diurnal heating inland. Showers and a few thunderstorms will already be ongoing over the English Channel and parts of SE England on Monday morning, bringing the risk of localised surface water flooding and perhaps some hail. These may clear eastwards for a time, but any additional surface heating will likely result in further scattered heavy showers and a few thunderstorms late morning and into the afternoon hours, before clearing by the evening. The odd weak waterspout may be possible.
Elsewhere, scattered showers will already be affecting some Atlantic coastal regions on Monday morning, and will move inland / develop more widely through the day. For the most part CAPE will be quite weak and/or skinny, and while isolated lightning may occur the overall risk in most areas is considered sub-SLGT. Deeper convection, with greater instability and steeper lapse rates, is expected over Ireland, and here greater potential for some sporadic lightning from the strongest cells. Shear is rather weak until late afternoon, and so more "pulse type" convection is expected. Some small hail will be possible locally.
One other area of interest could be Yorkshire for a time during the afternoon hours, but confidence on lightning activity is not high enough to upgrade to SLGT at this stage.