| | |
| --- | --- |
| Convective Outlook: Tue 13 Aug 2019 | |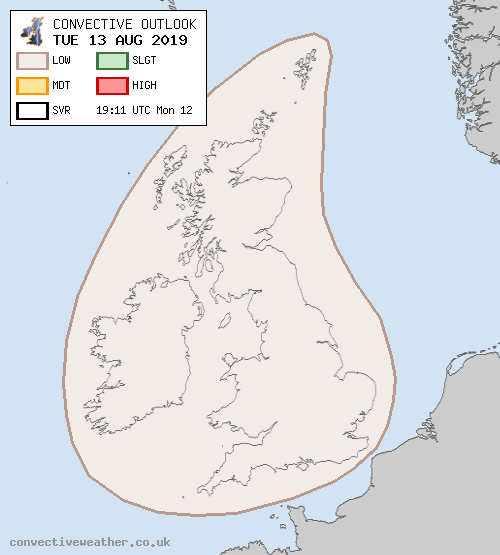 Convective Outlook
VALID 06:00 UTC Tue 13 Aug 2019 - 05:59 UTC Wed 14 Aug 2019
ISSUED 19:11 UTC Mon 12 Aug 2019
br> br>
ISSUED BY: Dan
A broad upper trough will slowly clear eastwards from the British Isles as a weak surface ridge attempts to build from the west. While the bulk of the more significant instability will be east of Britain over the North Sea, the proximity to the upper trough and associated cold pool will enable a few hundred J/kg CAPE to build in response to diurnal heating.
Scattered showers will tend to develop, but with heights gradually rising aloft the potential depth of convection will gradually reduce and become shallower from southwest to northeast through the day - meaning areas furthest to the northeast will have the better potential for deeper convection. A few isolated lightning strikes will be possible, most likely in E / SE Scotland or NE England, but the overall risk is considered too low to warrant a SLGT.
Meanwhile a frontal wave will slide southeastwards from southern Ireland across SW England towards the Channel Islands. This may contain some embedded convection and perhaps the odd isolated lightning strike. Further showers may develop in its wake over Wales / SW England / Ireland, aided by a strip of shear vorticity aloft.