| | |
| --- | --- |
| Convective Outlook: Thu 15 Aug 2019 | |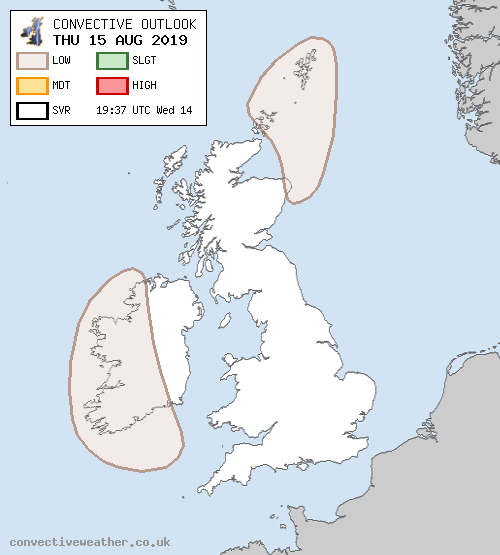 Convective Outlook
VALID 06:00 UTC Thu 15 Aug 2019 - 05:59 UTC Fri 16 Aug 2019
ISSUED 19:37 UTC Wed 14 Aug 2019
br> br>
ISSUED BY: Dan
A frontal zone straddling the North Sea and also affecting the Northern Isles may produce some sporadic lightning in places on Thursday daytime (moreso southern half of the North Sea). Any lightning risk for Orkney/Shetland should cease by midday as the frontal zone clears eastwards from the area.
Scattered heavy showers are possible in Northern Ireland during the afternoon hours, but the depth of convective will likely be too shallow for lightning.
The next Atlantic frontal system will arrive across Ireland through Thursday evening and night, spreading cloud and outbreaks of rain gradually eastwards. Strong shear may encourage some elements of line convection to develop within the frontal precipitation, although weak instability and saturated profiles suggests the lightning risk is very low.
Similarly a shallow moist zone (SMZ) is likely to evolve over western Ireland towards Friday morning as mid/upper-level dry intrusion overspreads the moist low-level airmass. While some heavy bursts of showery rain may develop, once again the risk of lightning is considered very low.